High Paying WordPress Plugin Affiliate Program!
PROPOVOICE AFFILIATE PROGRAM
Earn upto
$165
from each referral!
Become a member by joining our affiliate program  and earn 30% commission for every successful sale.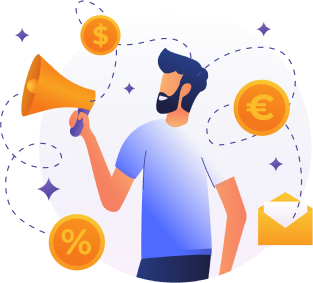 What Do We Offer to Our Affiliate
Partners?
Propovoice is a great, easy to sell product to agency owners and freelancers 
How To Become A Propovoice Affiliate?
How do I become an affiliate?
To apply to become an affiliate for Propovoice, you'll need to follow the instructions and set up an account. Make sure to go through the program policy first to understand the do's and dont's of being an affiliate partner.
Will I get commission from each purchase made using my affiliate link?
Yes, every sales made through your referral link would be awarded to you. You will receive an email notification confirming the sale.
When will I get paid?
We pay out at the second week of every month given that the referral order is at least 30 days old. Because we offer 30 day refund guarantee.
Do you offer custom commission rates for popular youtubers?
Yes, we can offer customized agreement if your social media profile has more than 100 engagement on average for the last 3 months. If you have such kind of resources, please send us an email and we can discuss further.
How Do I Get Paid?
All of our payments for affiliates are done via Payoneer or PayPal (Based on availability). You need to create a PayPal account and ensure that your email address has been correctly entered within your Propovoice affiliate account. Any account incorrectly setup will not receive payments for that cycle.
What are the affiliate terms and conditions?
How Long Will A Customer Be Attributed To My Account?
We offer commissions for the first sale or the first subscription purchase. We do not have any recurring commissions at this moment. So, there is no attribution period in terms of a recurring sale or customer.

If you're referring to the cookie expiration period, then it is 30 days from the first page load.
Interested In Becoming An Affiliate?
Propovoice is a great, easy to sell product to agency owners and freelancers