Looking to enhance your business and streamline your invoicing process?
In this article, we have compiled a list of the 9 best WordPress invoice plugins that will take your business to the next level. With these powerful tools, you can effortlessly create professional invoices, manage payments, and boost your overall efficiency. So, let's dive into the world of invoicing plugins and supercharge your business today!
Table of Contents
What is a WordPress Invoice Plugin?
WordPress invoice plugin allows users to create and send professional-looking invoices to clients or customers directly from the WordPress website.
Why Use the WordPress Invoice Plugin?
Invoice plugins are necessary to smoothly run businesses or services online. Wondering why? Here are the top reasons for using invoice plugins on your website:
It allows you to create professional and brand-oriented invoices that will work better for your business.
Invoice plugins come with a solution for rapid invoice creation and delivery.
It can effectively and efficiently maintain the accuracy that you will need to create invoices for your business.
These plugins have an automated reminder feature so that you don't have to waste time following up with your clients.
Clients can make payments swiftly as they can directly pay from the invoices.
You can effortlessly keep the recording of all the generated invoices and payments.
Some invoice plugins let you prepare reports for better insights.
Invoice plugins also come with client management features.
9 Best WordPress Invoice Plugins
Creating and managing invoices is important for running a successful business. Thankfully, now you can simply do it by using the WordPress invoice plugin. Here are the top 9 best WordPress best invoice plugins that you can rely on to streamline invoice creation and management processes: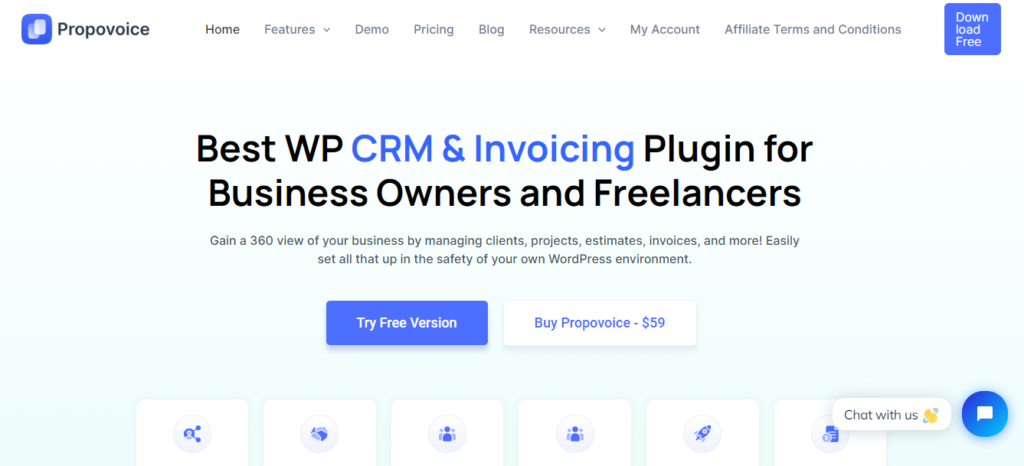 Propovoice is one of the best CRM and invoice plugins that comes with bundles of features for your online business. Through this plugin, you can not only efficiently create and manage invoices but also manage leads, deals, clients, projects, and estimates. Besides, this plugin comes with pre-built templates for invoices. Moreover, you can customize these invoice templates by adding additional pricing, e-signing option, flexible payments, etc. You can also share these invoices with your clients via WhatsApp, messenger, email, PDF, etc. This invoice management plugin doesn't require any paid add-ons to streamline your online business.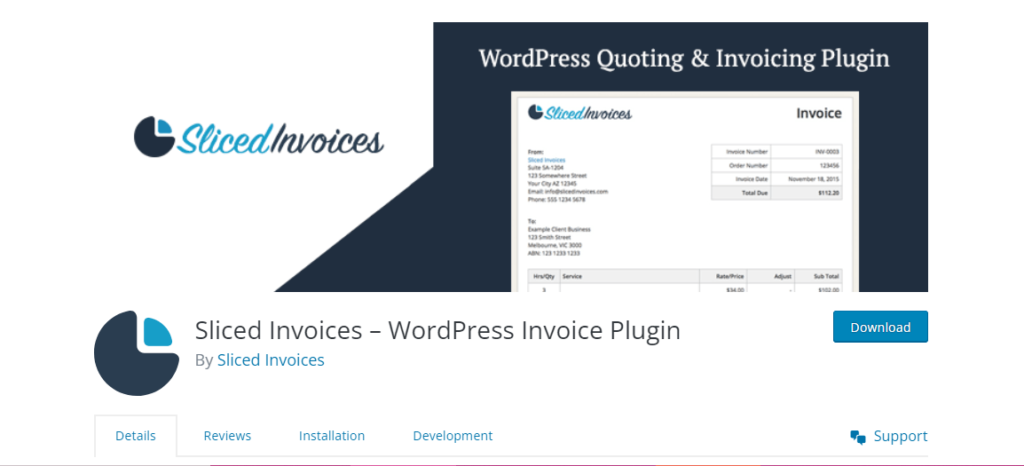 "Sliced Invoices" is a popular and feature-rich WordPress plugin designed to simplify the invoicing process for businesses, freelancers, and service providers. With its comprehensive set of tools, the plugin allows users to create and manage professional invoices, estimates, and quotes directly from their WordPress dashboard. On top of it, you can enjoy limitless customization features while creating invoices with this plugin.
Moreover, this plugin keeps track of all the created invoices, estimates, and payments so that you can get a better overview of your business. If you're looking for a reliable invoice solution then, you can consider the Sliced Invoices plugin.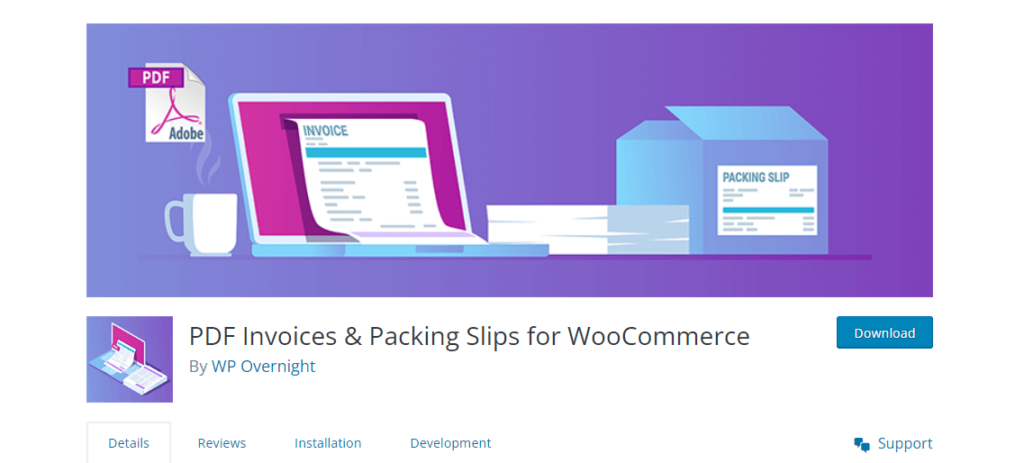 PDF Invoices & Packing Slips for WooCommerce is a popular WordPress plugin specifically designed for WooCommerce online stores. As the name suggests, this plugin automates the generation of PDF invoices and packing slips for each order processed through your WooCommerce store. It aims to enhance the customer experience, improve order management, and provide a professional touch to your e-commerce operations.
This plugin also allows you to download invoices in PDF format and automatically attach them to the emails sent to your clients. Just like other Invoice plugins, it has built-in templates with additional customizations so that you can edit and send professional and attractive invoices to your clients.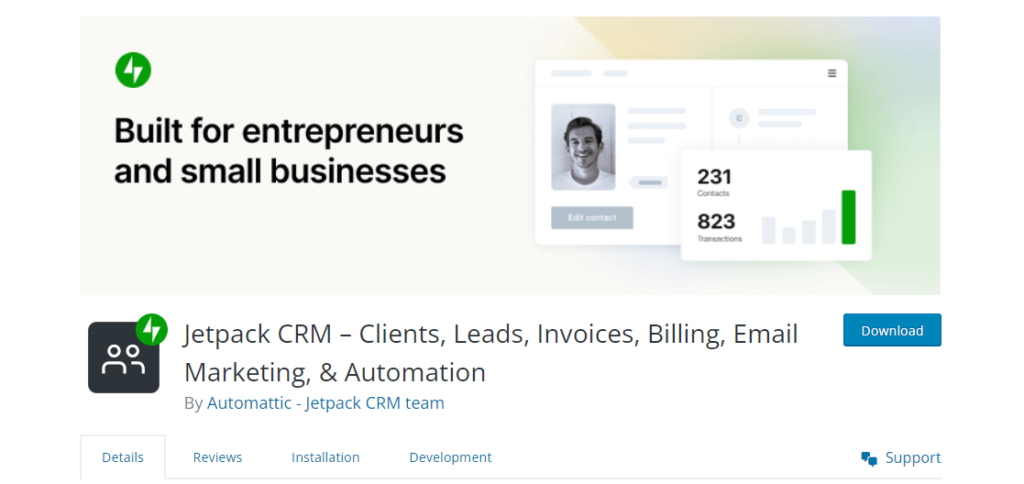 Want to adopt a popular invoicing plugin developed by community leaders? Then look no further than Jetpack CRM. This invoicing plugin is excellent for the client, lead, invoice, and bill management. Besides, it is a super user-friendly and customizable WooCommerce invoicing solution that allows you to efficiently create and manage your invoices right from the WordPress dashboard.
Furthermore, it generates professional and customizable invoices directly from the CRM data, ensuring accuracy and consistency. You can also seamlessly connect invoices with popular payment gateways such as Stripe and PayPal. Therefore, it can be a great WooCommerce invoicing plugin.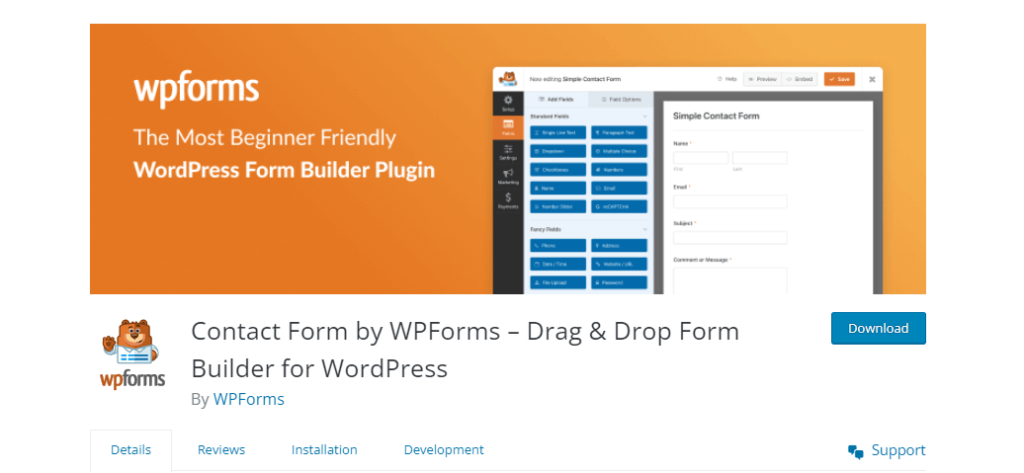 If you're looking for a basic invoicing solution then, you can try WPForms which also comes with form-building capabilities. This plugin ensures you can enjoy all the fundamental invoicing features. However, if you want to embrace the advanced invoicing capabilities then it is always good to try a dedicated invoicing solution for your business.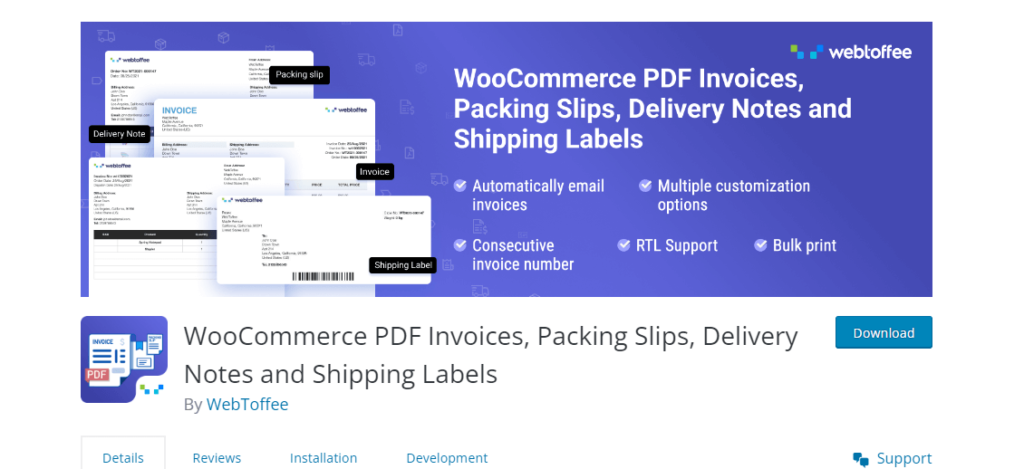 This plugin lets you generate PDF invoices, packing slips, delivery notes, and shipping labels from your WooCommerce order page. WooCommerce by default doesn't come with the invoice printing option. Thanks to this plugin, you can leverage it along with other WooCommerce invoicing capabilities. Besides, you can send these invoices through email.
In addition to this, creating invoices is easier with the multiple built-in templates. Furthermore, there is always room for customization that allows you to create brand-focused invoices. So, it can be a great invoicing solution for your business.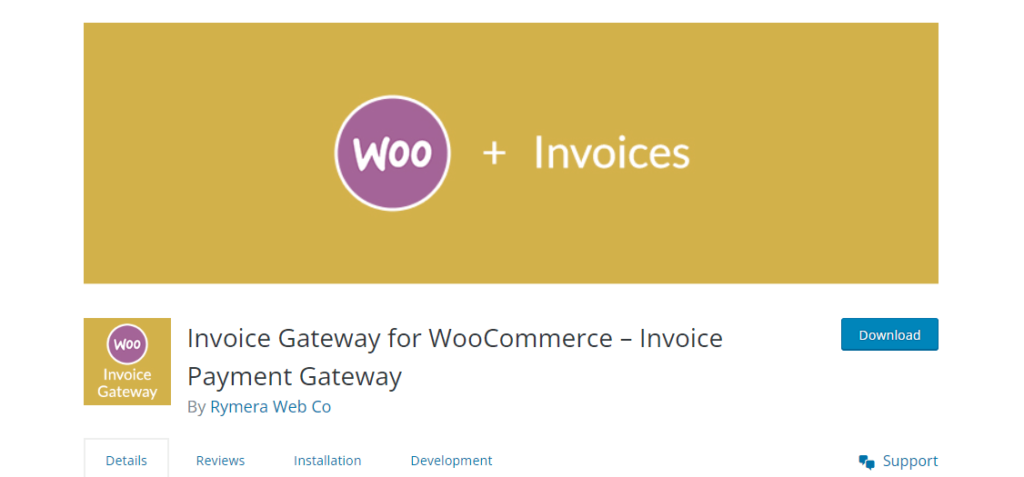 The Invoice Gateway for WooCommerce plugin streamlines the invoicing process, allowing for smooth customer interactions and more flexible payment options. With this plugin, customers can select the WooCommerce Invoice gateway as their preferred payment method. Once the customers make payments, you can simply add the invoice number to the order and change the order status to "Completed."
Moreover, this plugin has a Wholesale prices extension for WooCommerce to offer invoice payment options to your wholesale customers.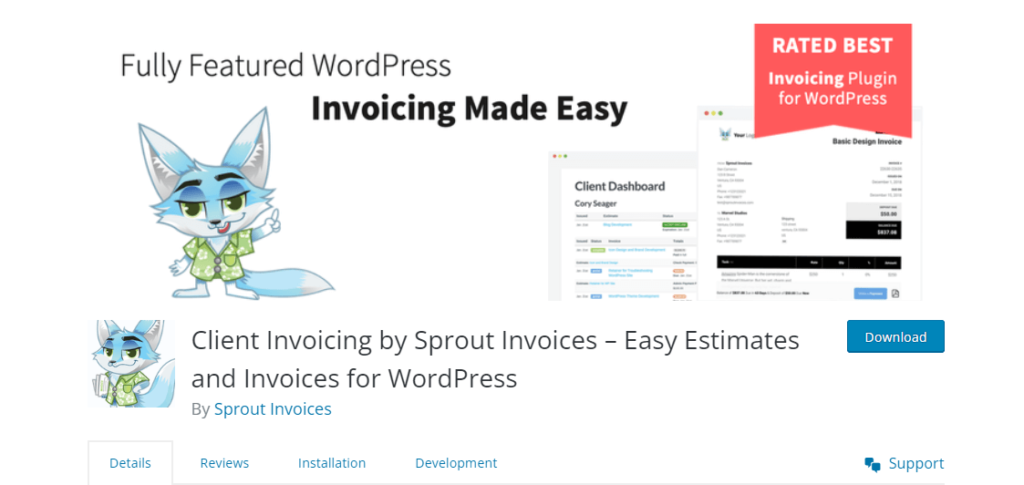 Sprout Invoices is a feature-rich WordPress plugin that empowers site owners to effortlessly create and manage invoices. With a strong focus on customization and flexibility, Sprout Invoices allows you to personalize templates to reflect your branding, making invoices and estimates visually appealing. Moreover, One of the standout features of Sprout Invoices is its impressive integration capabilities with popular payment gateways like PayPal, Stripe, Authorize.net, Square, and more.
Additionally, the plugin smoothly integrates with various WordPress form builders, such as Gravity Forms, Ninja Forms, WP Forms, and Formidable Forms, allowing dynamic invoice creation. Furthermore, its pro version is also available for users seeking even more advanced features.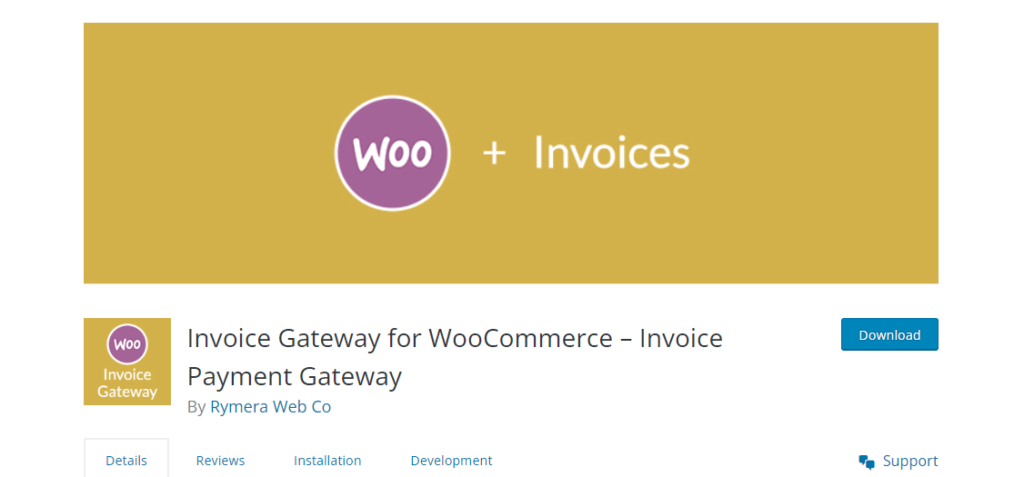 GetPaid is a WordPress plugin that offers a powerful and flexible payment and invoicing solution for businesses and website owners. The plugin provides a range of features designed to simplify invoicing, payment processing, and tax management, making it a valuable tool for online stores, service providers, and other businesses.
Users can create professional invoices, send them to clients, and clients can pay directly online. Invoices can be easily customized, and the plugin also supports credit notes and proforma invoices. Furthermore, the plugin is VAT MOSS compliant, making it suitable for businesses operating in the European Union. Overall, GetPaid stands out as a versatile and user-friendly payment and invoicing solution for WordPress users.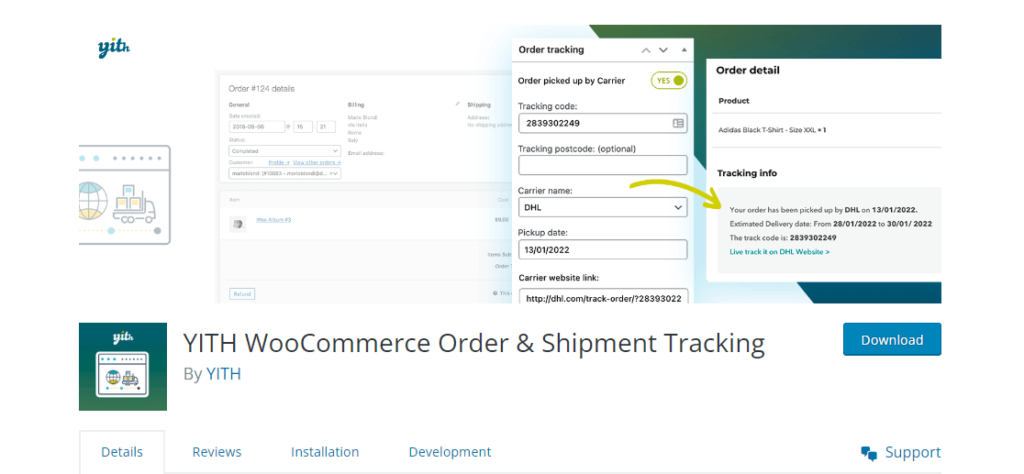 YITH WooCommerce PDF Invoices & Packing Slips is a comprehensive solution designed to simplify and automate the process of generating and managing invoices for WooCommerce-based e-commerce sites. Besides, it has a dedicated dashboard to monitor and manage invoices. Also, you can keep a backup for all invoices on Google Drive or Dropbox.
The YITH Invoices plugin can create beautiful and professional invoices with ease. Besides, users can customize the content and design of invoices according to their preferences, including adding logos, choosing the invoice numbering format, and selecting which information to display. Whether you prefer automatic or manual invoice generation, the plugin provides flexible options to suit your workflow.
Wrapping up:
Invoicing is an integral part of any business and with the 9 best WordPress invoice plugins at your disposal, you can create invoices the way you want. Whether you are a small business owner, freelancer, or e-commerce entrepreneur, choosing the right invoicing plugin can make a significant difference in your business operations. So, embrace the power of technology and streamline your invoicing process today by incorporating the best WordPress invoice plugin into your website.