Today, we're excited to announce the release of an update to our Propovoice WordPress CRM and invoicing plugin, featuring two highly requested new features: user roles and custom fields.
We also want to inform you that there were around 4 different updates to the free and Pro plugins during the last month with various bug fixes and improvements. You can find all the details on the respective plugin change logs available inside the plugin folders and WordPress.org landing pages.
New User Roles for Propovoice CRM Plugin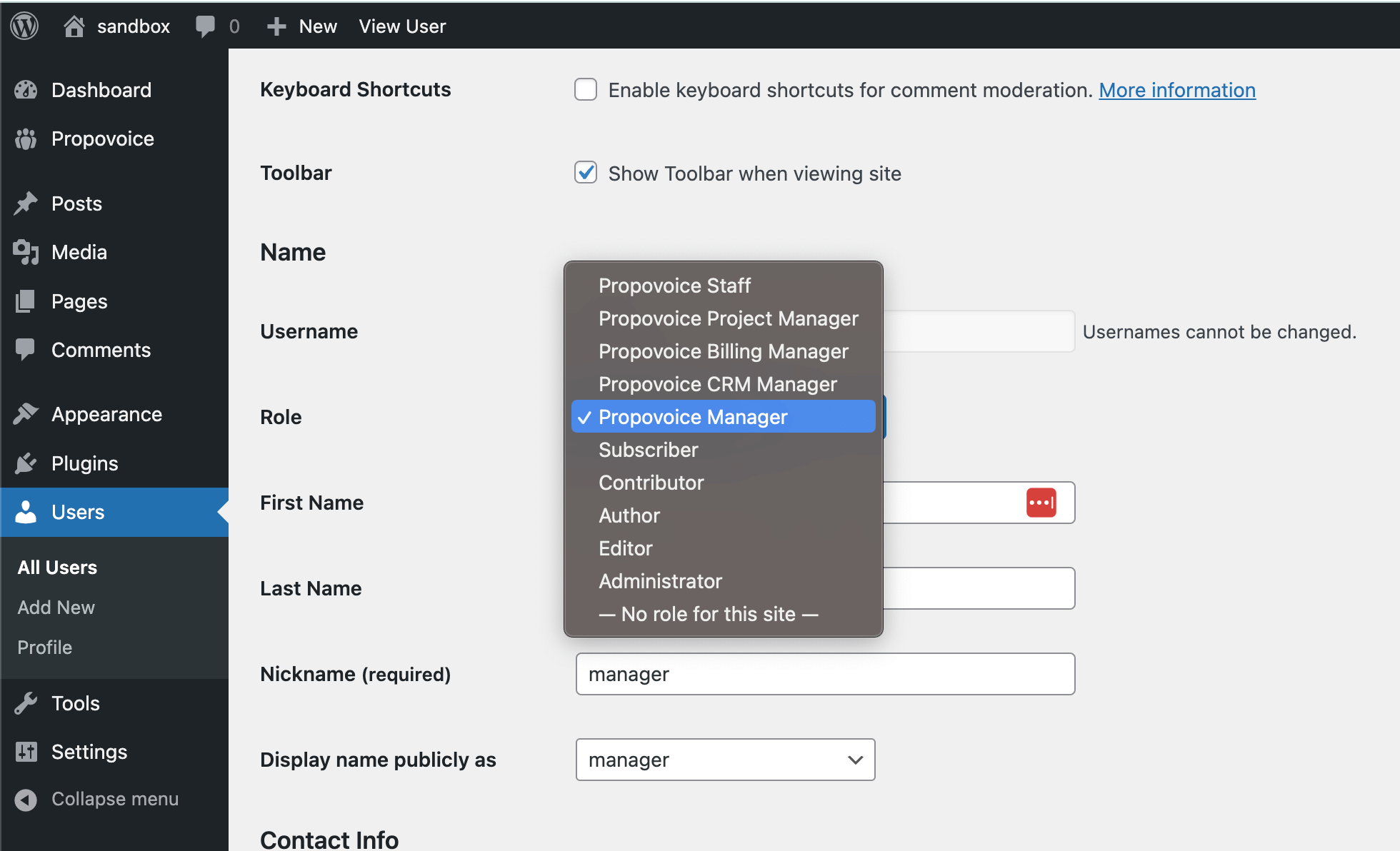 We are introducing five new user roles for Propovoice. All of these roles are developed on top of the subscriber user role of WordPress. So, each of these users get access to only the assigned section of Propovoice. No other access inside the WordPress admin dashboard is granted. You can add additional roles and capabilities if you want. You might need to use the User Role Editor plugin to mix and match multiple permission to a user or role inside the WordPress admin dashboard. Here are the explanation about the new roles-
Manager – This user role gives permission to use all the features of Propovoice with all privileges including the settings and integration of the plugin. There will be no limitations.
CRM Manager – This user gets access to all the sections that have customer data such as leads, deals, estimates and tasks along with the dashboard and frontend feature.
Billing Manager – This user gets access to invoices, estimates, contacts, dashboard, tasks and activities.
Project Manager – This role allows access to the client, projects, tasks and activity sections of the plugin.
With custom roles, you'll be able to manage user permissions within the plugin modules more efficiently than ever before. You can assign different levels of access to different team members based on their roles and responsibilities, ensuring that everyone can do their job effectively without risking sensitive data. The custom roles feature also allows for more control over who can view and modify data within the plugin, helping you maintain the integrity of your records.
Custom Fields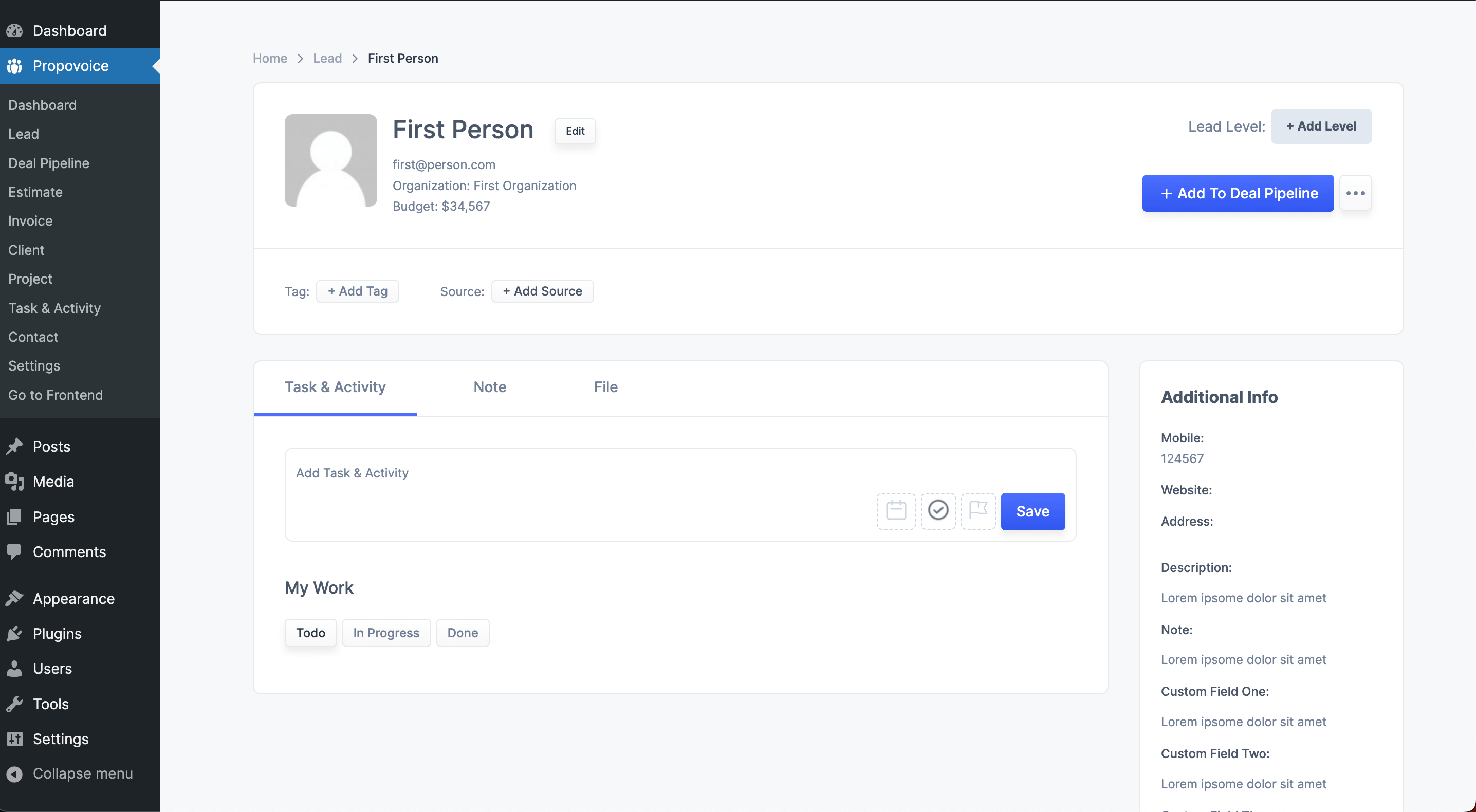 This is the first installment of the custom fields feature. This time we are adding lead, deal, and project supports. In the upcoming updates, we will add support to all the modules of Propovoice CRM.
You can create new custom fields from WordPress Admin Dashboard > Propovoice > Settings > Custom Fields.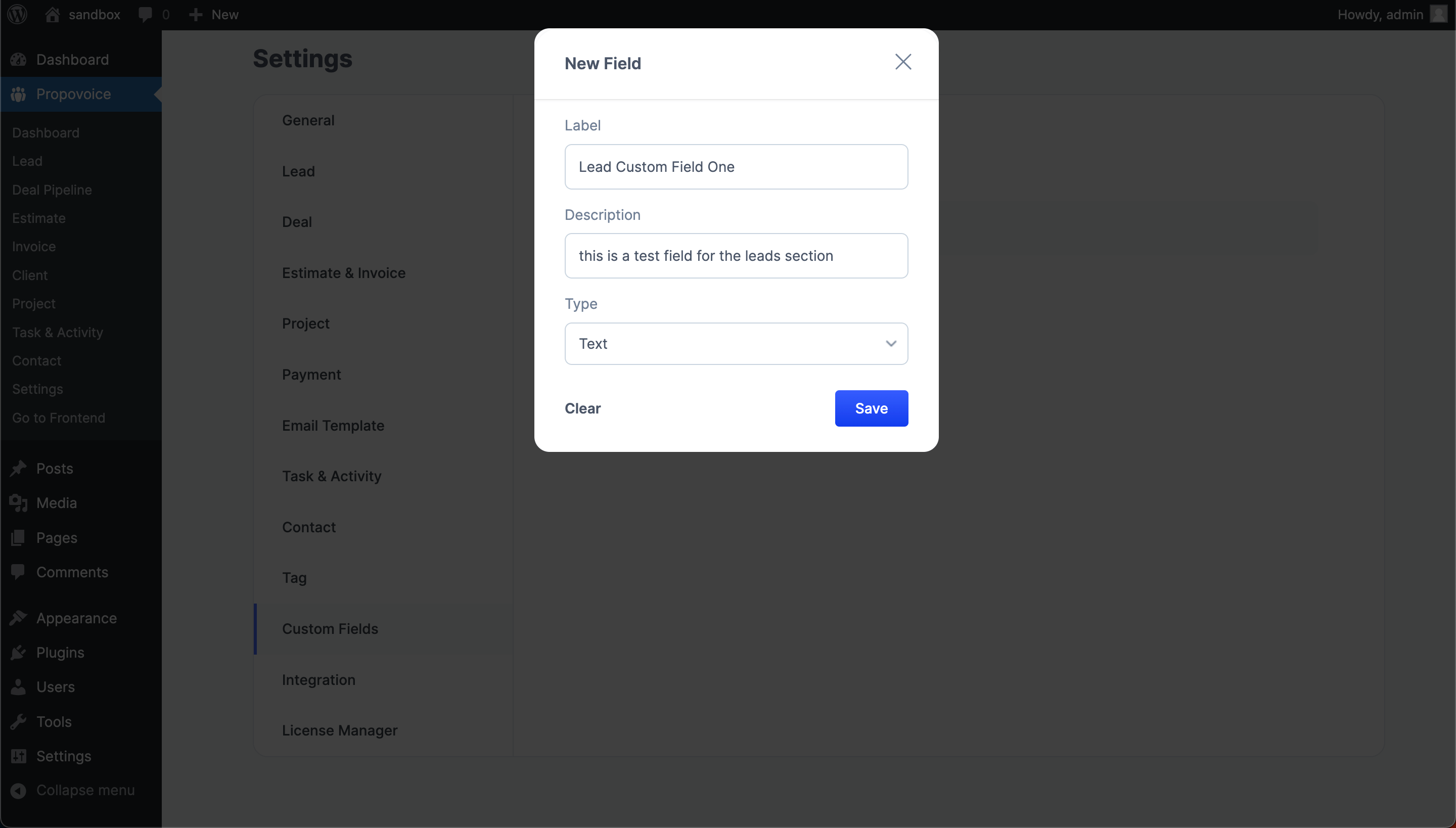 All the custom fields can be arranged by dragging and dropping them. The fields will appear on the pop-up form after the default fields, at the bottom. And the data will be visible in the additional info column for all cases. Right now, we are only adding support for text data. Gradually, we will add all types of input fields with validation, condition and automation with API support. Please let us know if you have ideas and suggestions for us in the comments section. We will be happy to hear from you.
Thank you so much for your continuous support and using Propovoice CRM plugin.