Streamlining the invoicing process is crucial for businesses to maintain efficiency and professionalism. With the best invoice generator, creating and managing invoices becomes a breeze.
It offers customizable and visually appealing invoice templates, along with seamless integration with popular payment gateways, making it easy to generate invoices and receive payments from your customers.
In this blog, we'll explore the significance of using a WordPress invoice generator and introduce you to the top and recommended plugins for an effortless invoicing experience.
Table of Contents
What is WordPress Invoice Generator?
An invoice generator is a plugin that allows you to beautifully create and manage invoices right from your WordPress dashboard. Besides, it has customizable best-looking invoice templates and compatibility with popular payment gateways so that you can seamlessly generate invoices and receive payments from your customers.
What's the Significance of Using WordPress Invoice Generator?
Using a WordPress invoice generator can be highly beneficial for various reasons:
Efficiency and Time-saving: The invoice generator streamlines the process of creating invoices, saving you time and effort. It automates tasks like calculations, invoice numbering, and date management.
Professionalism: Professionally designed invoices create a positive impression on clients. A well-crafted invoice reflects your brand's identity and adds credibility to your business.
Accuracy: The automation provided by the invoice generator reduces the risk of human errors in calculations or data entry, ensuring accurate invoices.
Customization: Many invoice generators offer customizable templates, allowing you to tailor the appearance of your invoices to match your branding.
Organization: An invoice generator helps you maintain a systematic record of your invoices, making it easier to track payments and manage financial records.
Faster Payments: Clear, well-structured invoices can expedite payment processing, as clients can easily understand what is being billed and how to make the payment.
Integration: Some invoice generators integrate with payment gateways, making it convenient for clients to pay directly from the invoice.
Automation: Invoices can often be set up for recurring billing, making it easier to manage subscriptions or repeat services.
Best Invoice Generator for WordPress
Creating a manual invoice is a tiresome and humdrum task. Besides, it takes hours to create and customize these invoices without using tools. So, the best practice is to use a WordPress invoicing plugin. Wondering which one is the best invoice creator?
Propovoice offers a user-friendly interface for easy invoice creation and customization. Moreover, it comes with prepossessing templates which are fully customizable. Eager to discover an effortless invoice creation process? Go through the two easy steps to generate an invoice for your business:
Step 1: Create Invoices.
In the first step, you need to create invoices using the best invoice generator, Propovoice. If you have completed the installation of this WordPress plugin then, go to your dashboard and hit invoice. After that, click either "Add Invoice" or the "Let's Start Creating" button. Both options will lead you to the built-in templates tab.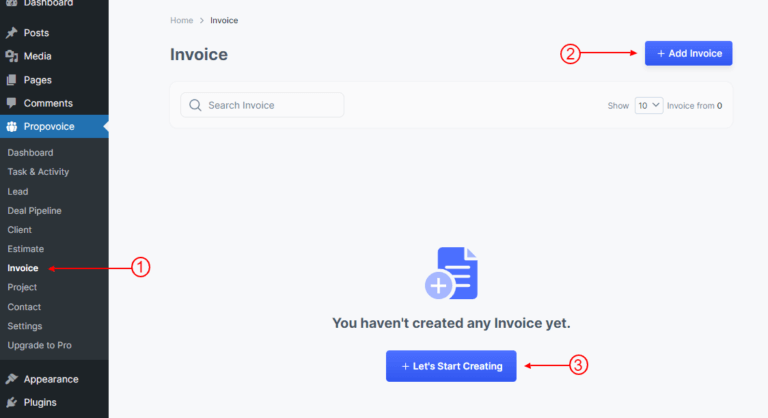 Now select a template from here. Propovoice allows you to check the preview of each template by clicking the "Full Preview" button. After finding a suitable template, hit the Select and Continue button.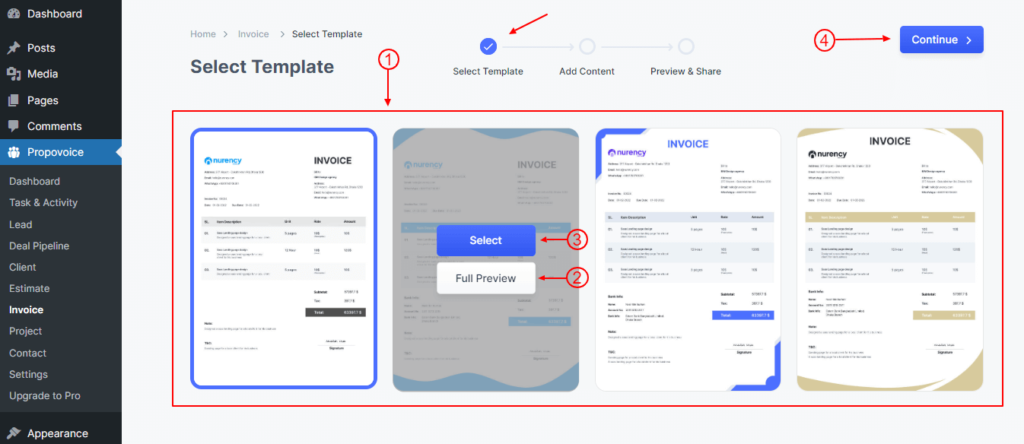 This will redirect you to the Add Content tab. In this tab, you need to fill in all the information necessary for your invoices. Here are the data you need to put:
Enter the Invoice number, Invoice date, and Due date.
Select your business or the Sender.
Add the Receiver of your invoice here.
Enter Invoice Title, Description, Quantity, and Rate.
This will show the Total amount.
By hitting Additional Amount, you can add tax or any other supplementary charge.
Add Notes, Terms & Conditions in this section.
Attach a signature from your device by clicking the "Authorized Signature" button.
Add Accepted Payment gateways from here.
Enable Reminder.
Make recurring invoices by enabling this option.
Edit the style of your invoice through this option.
Check how your Invoice looks through Preview Invoice.
Hit the "Save & Continue" button to go to the next step.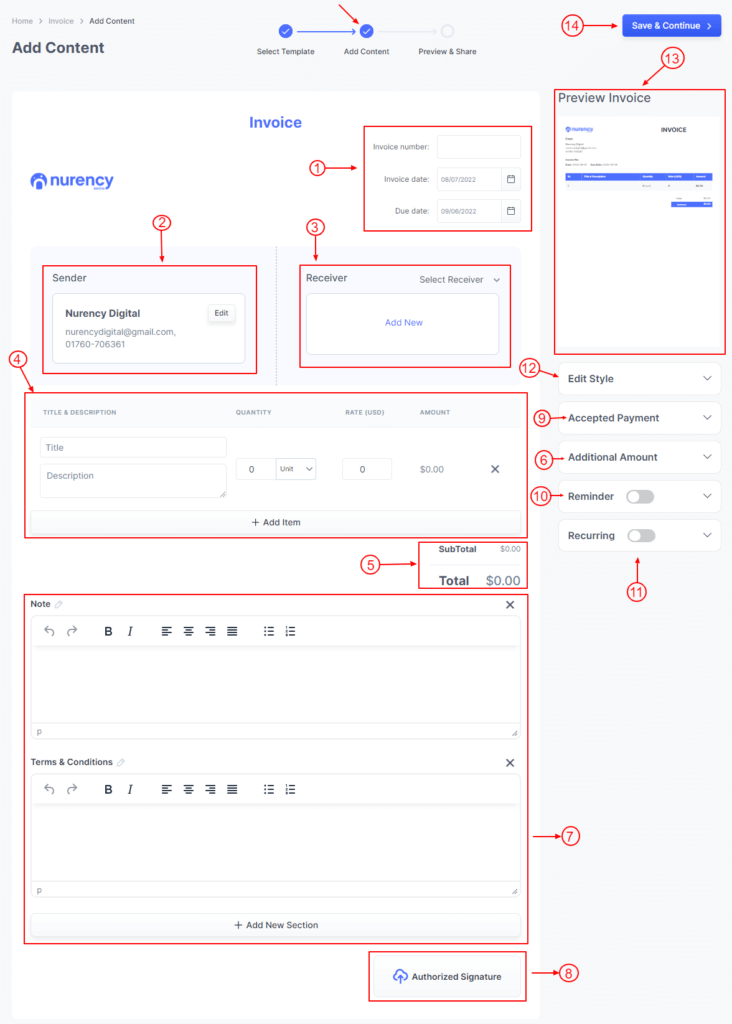 It will redirect you to the Preview & Share tab. This tab allows you to
Check Live Preview.
Edit, Download, and Print invoices.
You can also Share and Send invoices.
Send Email through the Send Email button.
Now, this will open up an Email Invoice tab from where you have to enter your email:
Subject &
Description.
Finally, click the Send Email button.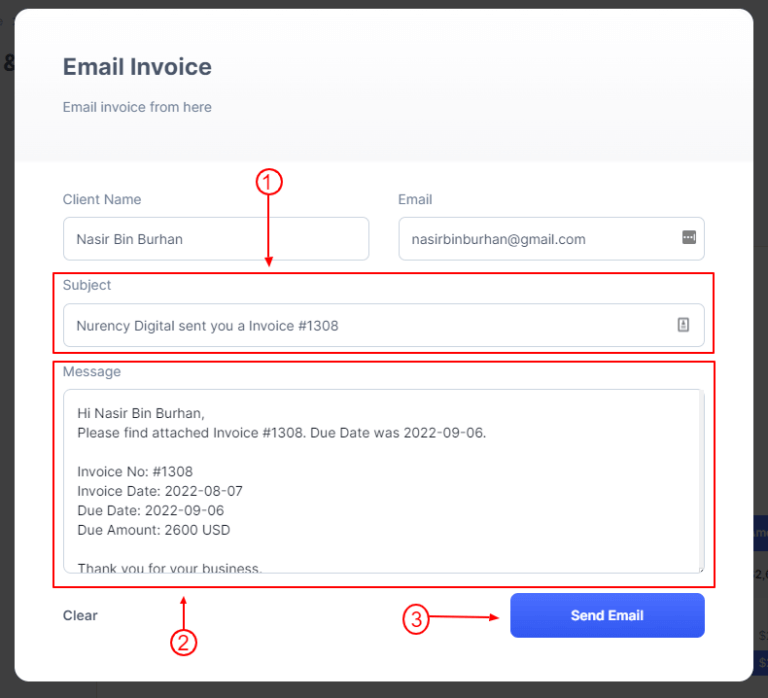 Step 2: Additional Invoice Settings.
In case you want to make further changes then, go to Propovoice >> Settings and hit the Invoice tab. This section will allow you to add Remainder and Additional Amounts such as taxes if you need them.
Top 3 Recommended WordPress Invoice Generators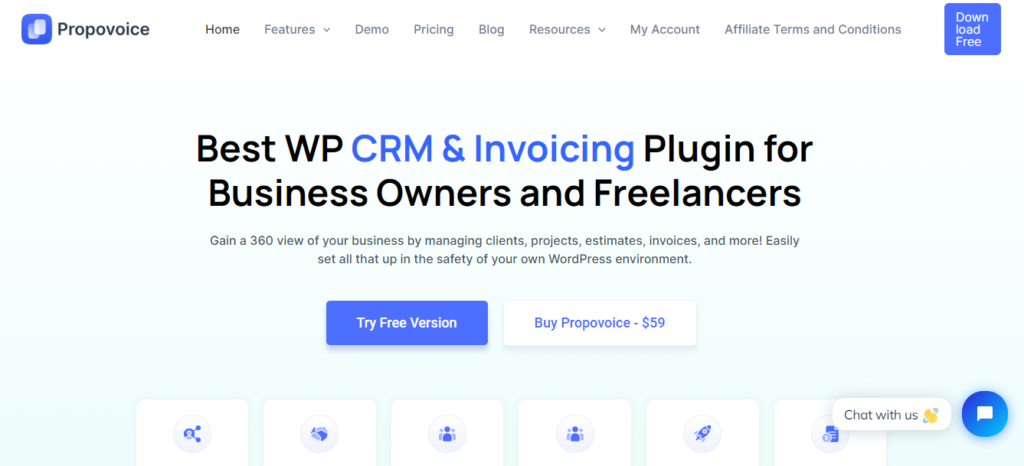 Propovoice is a versatile and innovative CRM solution that empowers users to design custom invoices that reflect their brand identity. Users can add their logo, brand colors, and personalized styling, ensuring a cohesive and polished look for every invoice.
Besides, the invoice creation process is highly flexible, allowing users to include all essential details, such as item descriptions, pricing, quantities, taxes, and discounts. Moreover, this best invoice generator goes beyond creating invoices, it simplifies the entire billing process. Furthermore, you can manage leads, deals, projects, contacts, etc.
Key features:
Business profile creation and management.
Customizable templates for easy estimate and invoice creation.
Clients can respond to estimates without creating an account.
Additional price setting with invoices.
Option to add notes and terms & conditions with a text editor.
Remainder for estimates & invoices.
Recurring invoices.
Integration with popular payment gateways and form builders.
Sprout Invoices is a versatile and powerful plugin that takes invoicing to a whole new level on WordPress. With a primary focus on providing seamless invoicing capabilities, this plugin empowers users to create beautiful estimates and invoices effortlessly.
Besides, its user-friendly interface allows WordPress site owners to create professional and customizable invoices in minutes, providing clients with an exceptional payment experience. With various payment gateways, including PayPal, Stripe, Authorize.net, Square, and more, clients can choose their preferred method for settling invoices, ensuring timely and hassle-free payments.
Key Features:
Template library.
Customizable notification sending option.
It supports multi-currency.
Records client information.
Recurring invoices.
Integrations for hundreds of popular plugins.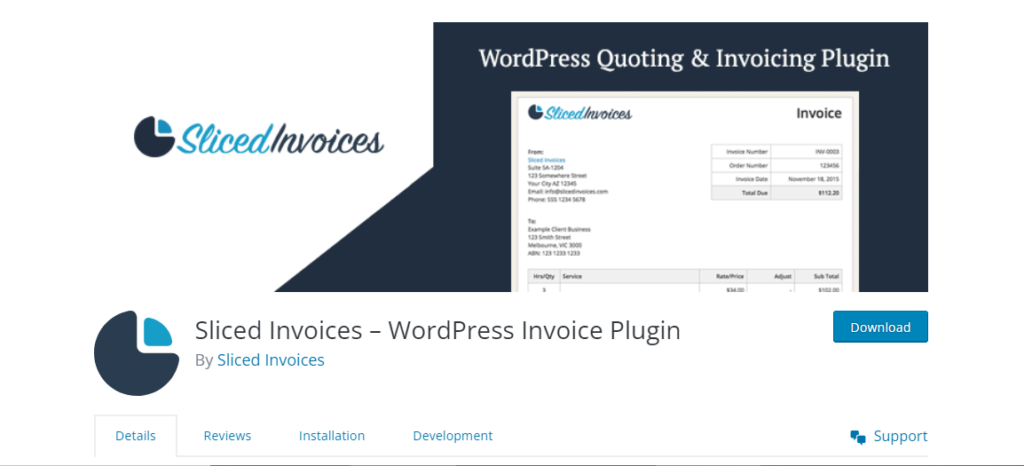 Sliced Invoices is an easy-to-use WordPress invoicing plugin that helps create professional quotes and invoices. Clients can pay online for the services or products they receive. The plugin offers lots of customization options, making it flexible for your needs.
You can set custom prefixes, suffixes, and tax settings, and choose from three customizable templates for invoices and quotes. It supports various payment gateways like PayPal and Stripe, and you can even send automatic payment reminders to clients. With Sliced Invoices, managing your invoicing becomes a breeze!
Key features:
Free extensions for additional tax and better URLs.
Paid extension for deposits, partial payments, and recurring invoices.
Integration for popular forms.
Invoice and quote cloning option.
Multisite support.
Option to add default due date.
Offline invoice payments.
Which WordPress Plugin is Best for Invoicing?
Propovoice CRM, Sprout Invoices, and Sliced Invoices are the best WordPress plugin for invoices. These plugins have easy invoice creation and customization features that generate brand-oriented invoices, maintaining the color, style, and design.
Can WooCommerce Generate Invoices?
Yes, WooCommerce has a free plugin through which you can automatically generate invoices. Besides, this plugin comes with pre-built templates for creating invoices in the blink of an eye. So, with the free plugin of WooCommerce, you can easily generate invoices.
Can You Create Invoices in WordPress?
Definitely, you can create invoices in WordPress utilizing any of the above mentioned plugins such as Propovoice CRM, Sprout Invoices, and so on. Utilizing these plugins, you can generate seamlessly generate invoices for your clients.
Wrapping Up
Invoicing is a vital aspect of every business, and leveraging the power of the best invoice generator can significantly improve your invoicing process. The featured plugins, Propovoice CRM, Sprout Invoices, and Sliced Invoices, stand out as top choices for their user-friendly interfaces, customizable templates, and integration with popular payment gateways.
Whether you're looking to enhance your brand identity, automate recurring invoices, or streamline payments, these plugins offer efficient solutions. So, compare the features of these invoicing plugins and adopt one that fits your needs and requirements.