You've come to the right place if you're looking for a streamlined way to manage your client relationships. Propovoice is a remarkable tool that makes client management a breeze, and this blog post will serve as your handy guide on how to use it effectively. Buckle up and let's delve right in!
Getting Started with Propovoice
Propovoice is very easy to install and activate just like any other WordPress plugin. However, if you are still unsure what to do, check out this documentation.
After activation, you will have a setup wizard for setting things fast.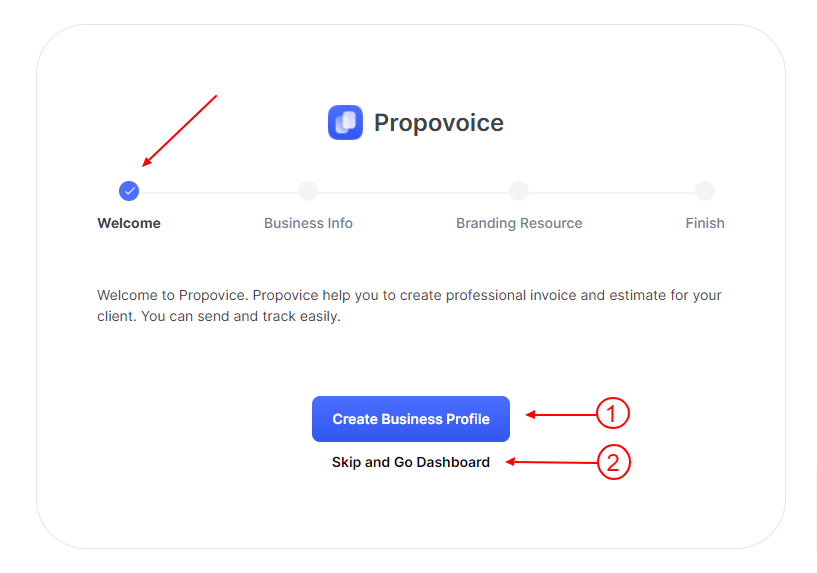 Follow these steps and set up your business and branding resources. After finishing, you are ready to add your first client.
Managing Clients Using Propovoice
We assume that you have tons of clients and want a solid database where you can keep all those client data safe and sound. Propovoice lets you do just that. Simply, navigate to WP Dashboard → Propovoice → Clients → +Add Client.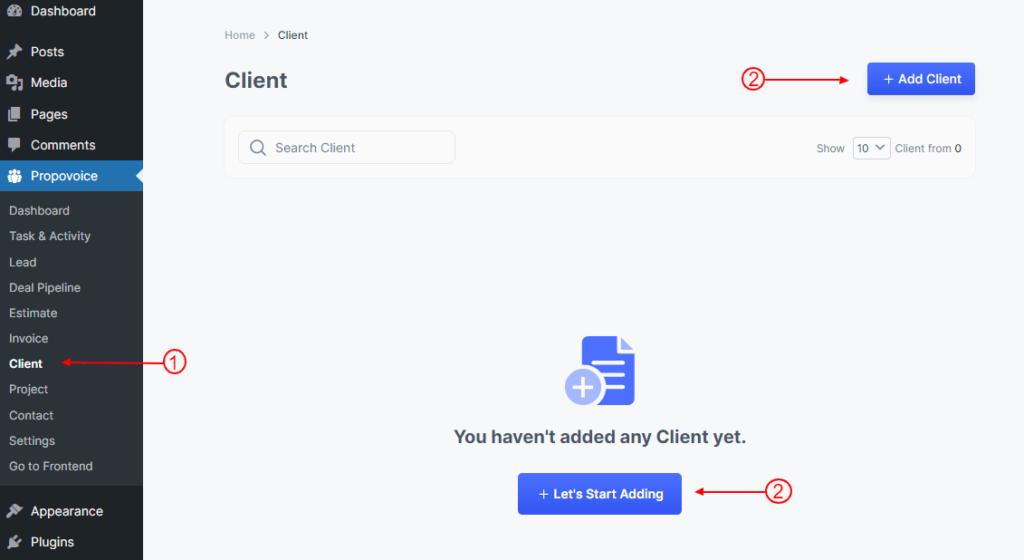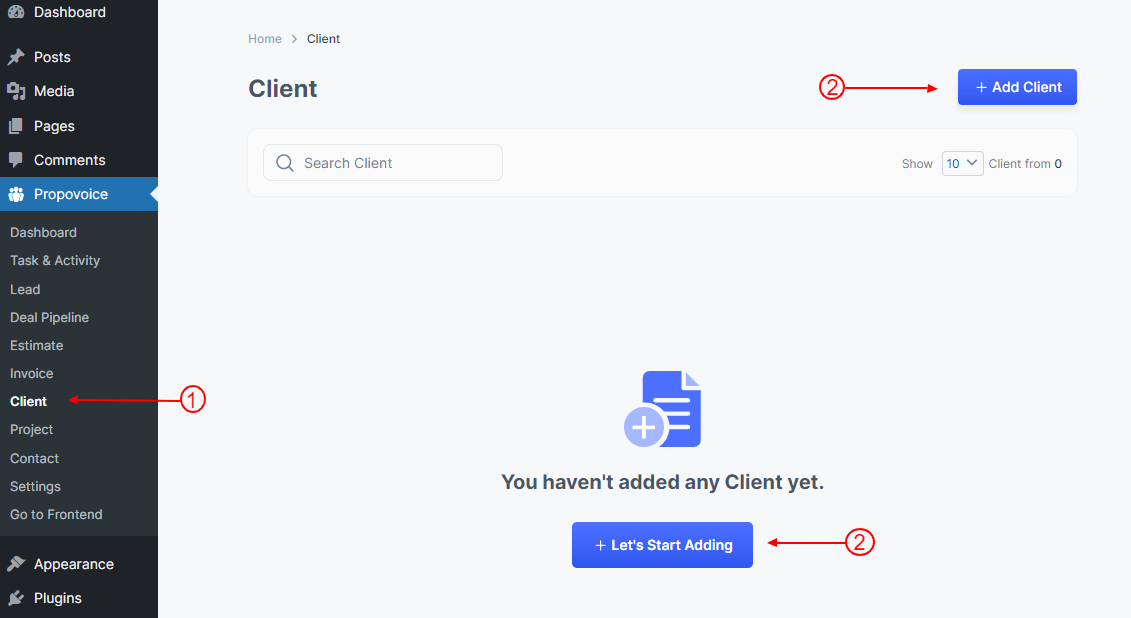 Or, you can simply click on the Add Client button from the setup wizard.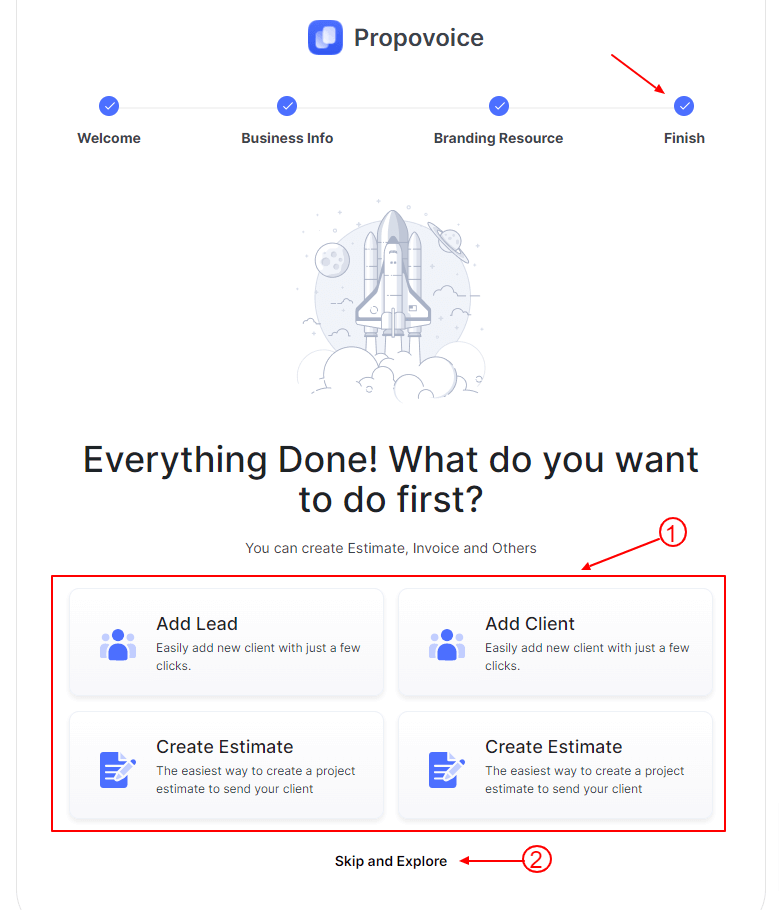 After clicking on the button, you will find a pop-up for adding your new client. Put in all the information you have including Content Person, Organization, Email, Mobile, Website, Address, etc. Hit the Save button.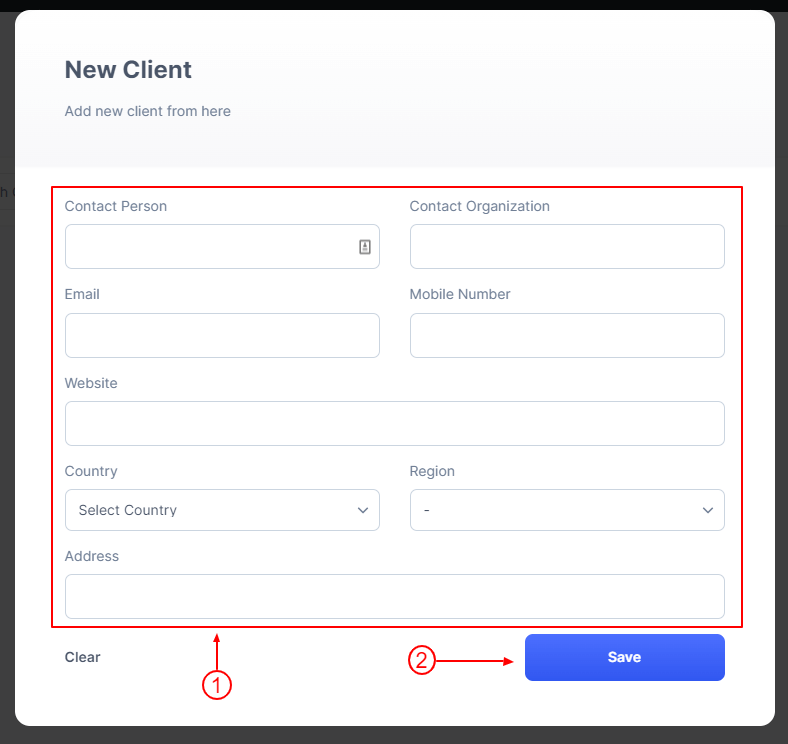 As you add more clients, the list starts listing up on your Client page. You can edit and delete your clients as per your requirements from the Action menu.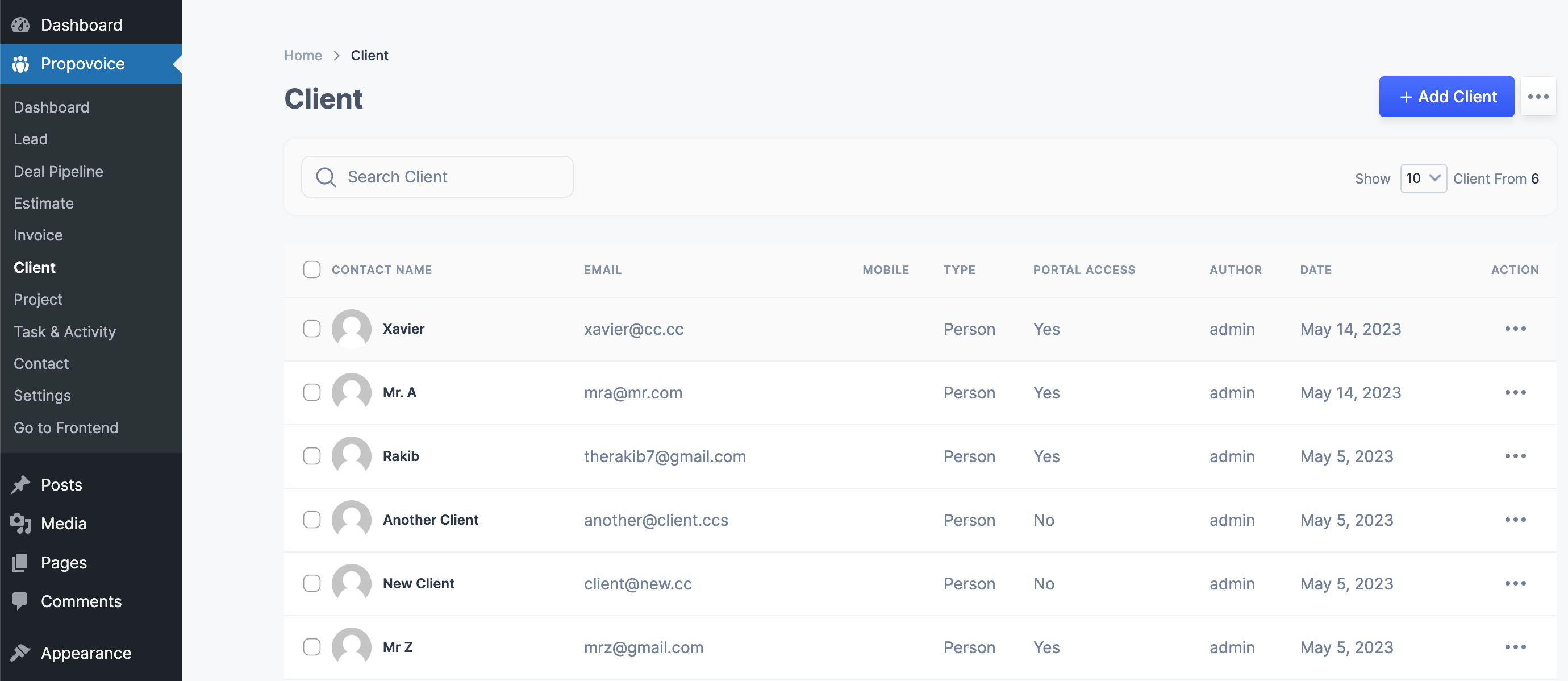 Managing Clients Using Propovoice from Frontend
Propovoice has the feature to see your CRM directly from the Frontend. This unique feature is helpful in many ways. For example, you want your team to see the frontend only keeping the backend safe and private. This kind of scenario is very common and Propovoice made this a reality.
To access the frontend, navigate to WP Dashboard → Propovoice → Go to Frontend.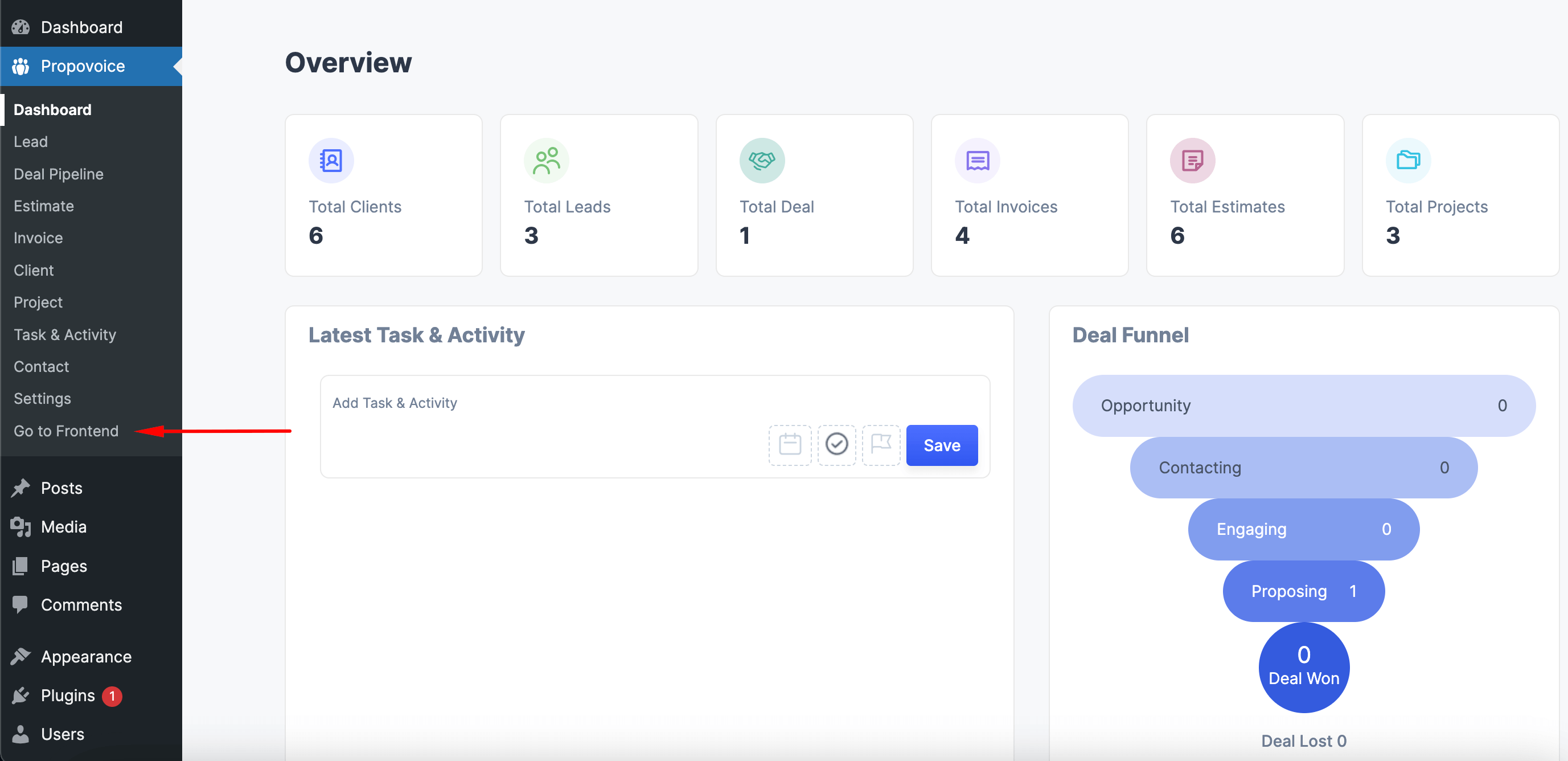 This is what the frontend looks like. You can pretty up do everything in the frontend just like the backend. You can even setup roles for your team so that they can access certain features of the CRM. To learn more about roles, you can check this documentation.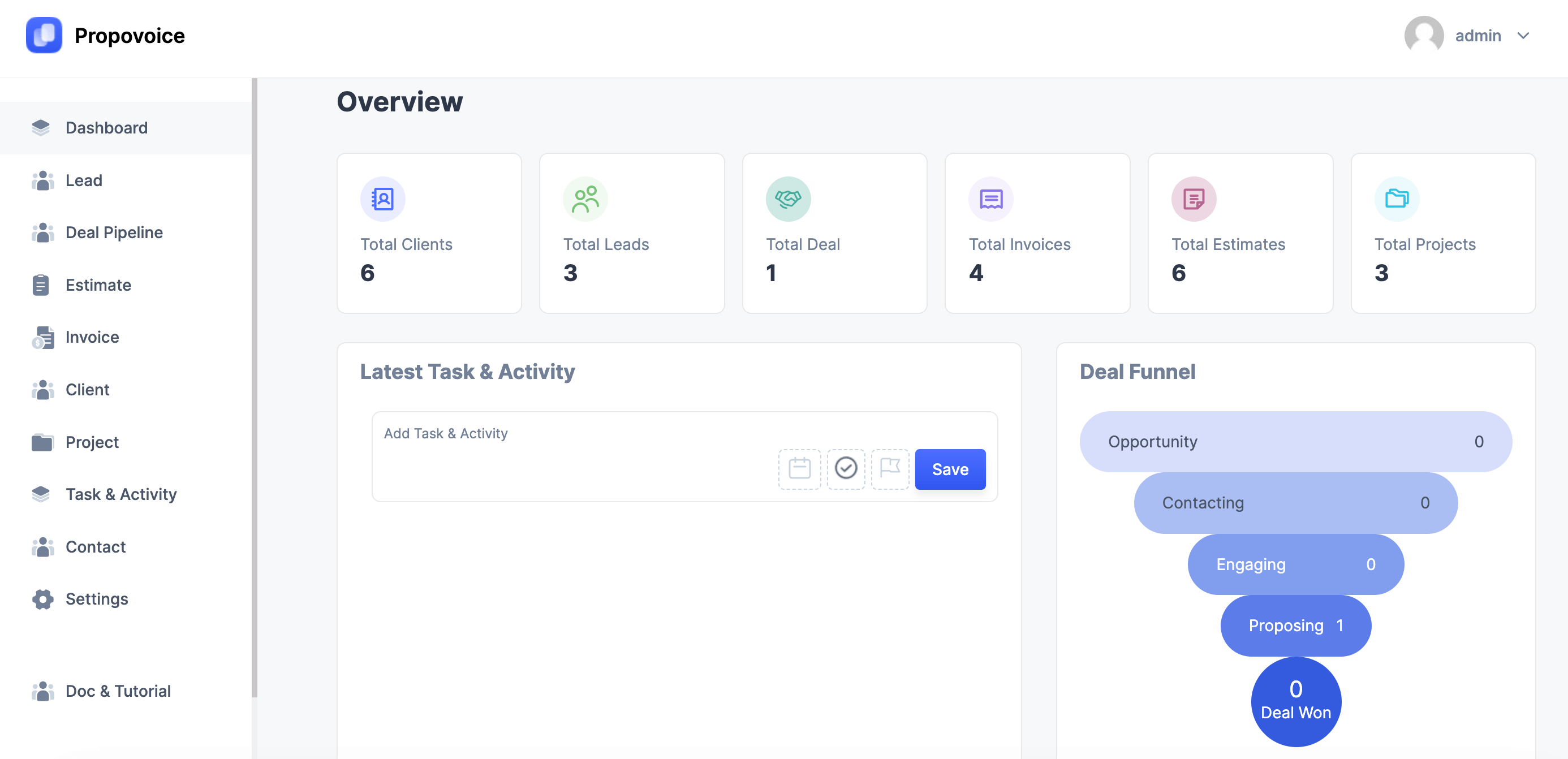 Client Portal
Propovoice makes things even more interesting as it has the feature to give your clients their own portals! From there, they can interact with you, see their estimates, invoice, and also projects. This amazing feature helps you to build a long-lasting relationship with your clients.
You can check our detailed documentation on how the client portal works.
Making the Most of Propovoice
The Propovoice CRM is not only a tool for managing business relationships but a platform to ensure optimum client satisfaction through its many features. From lead management to deal tracking, it equips businesses with a comprehensive solution. A key component of this solution is the client management feature, where Propovoice truly excels.
Estimate for Clients
One of the main challenges businesses face is estimating costs accurately and efficiently. Propovoice CRM's 'Estimate for Clients' feature lets businesses send a detailed proposal or estimate directly to potential clients. It allows for the tracking of activities, making it simple to see whether a client has accepted or declined an estimate, with optional notes for further clarification.
Invoice for Clients
After estimates are accepted, the billing process starts. Propovoice CRM's 'Invoice for Clients' feature makes this process smooth and easy. Businesses can create and send aesthetically pleasing invoices that reflect their brand, adding a personal touch to this important step. It supports a variety of payment methods, making it even easier for clients to settle their bills.
Projects for Clients
Managing projects efficiently is crucial for client satisfaction. Propovoice CRM's 'Projects for Clients' feature offers a robust platform for tracking progress, scheduling tasks, and checking deal probabilities. Project management becomes simpler and more effective, ensuring that all projects are delivered on time and within budget.
Read more: From Chaos to Control: How to Ace Project Management in WordPress with Propovoice
Wrapping Up
The Propovoice CRM's client management feature is designed to streamline business operations, increase productivity, and ensure optimal client satisfaction. By taking care of critical tasks like estimating costs, invoicing, and project management, Propovoice CRM allows businesses to focus on what they do best: serving their clients.
Propovoice is more than just a client management tool. You can also use it for project management, estimation, and invoicing. Keep exploring to discover all that Propovoice has to offer. 
Managing clients doesn't have to be a chore. With Propovoice, you're equipped with the tools you need to nurture positive, productive client relationships. Remember, the key is to familiarize yourself with the platform and make the most of its robust features. You got this, Happy client managing!