Propovoice WP CRM plugin allows you to classify all your users with different roles. First, you need to add new users from your WordPress dashboard.
Go to your WordPress Dashboard. Now Click on the Users Menu.
Choose Add New from the Users menu.
Fill in all the required boxes, such as Username, Email, First Name, Last Name, and Password.
You can choose different roles for the users who work for you. They will be able to manage Propovoice on your behalf. A dropdown option will appear.
Click on Add New User, and you're done.
You can select the desired Role from the dropdown menu.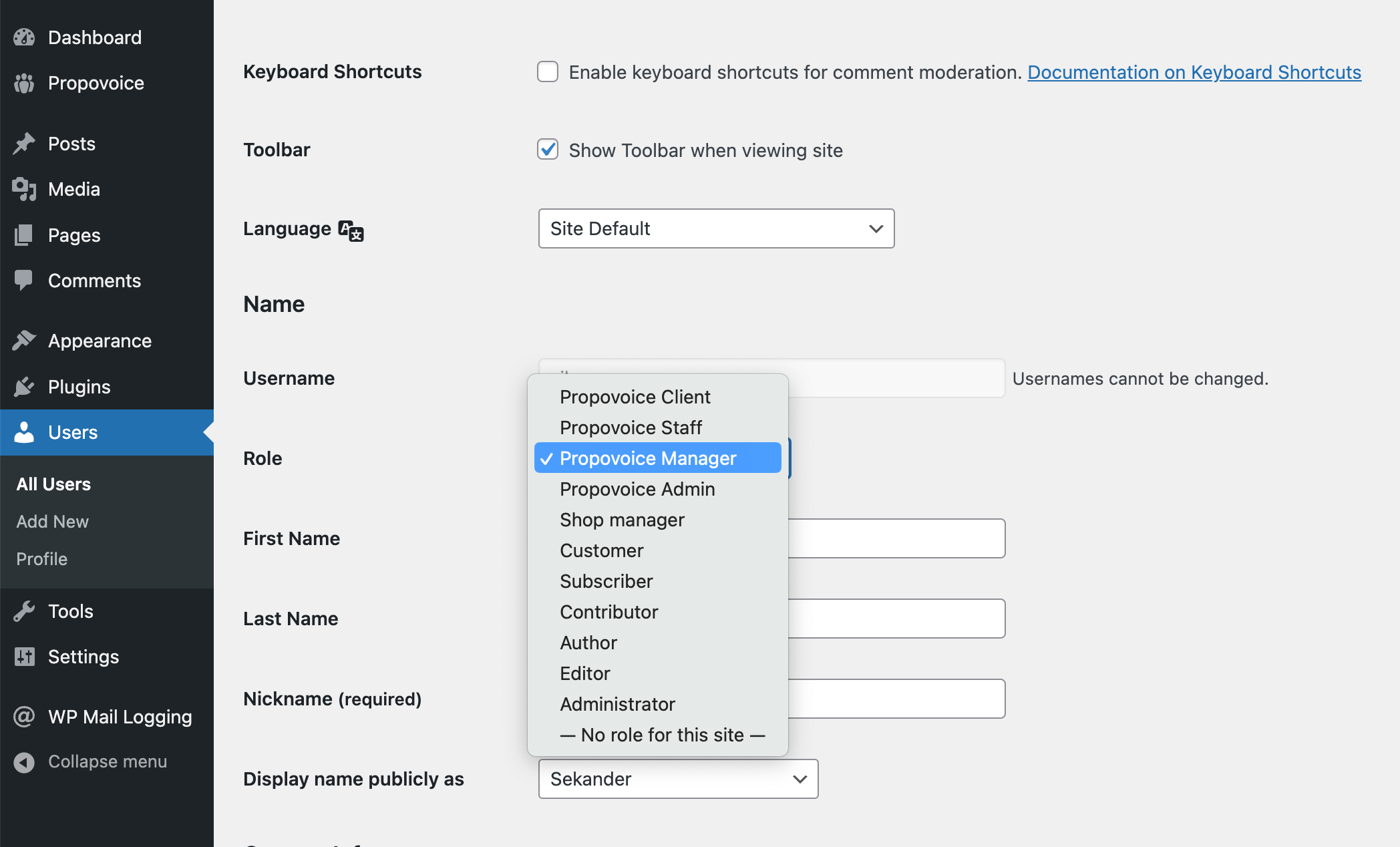 There are different roles available from your admin dashboard.
Propovoice Staff: The role will let the user look after all the basic activities regarding CRM and invoicing. A Propovoice staff will be able to access basic Propovoice functionalities from their user dashboard, and they can create a report based on the regular CRM activities on the go.
Propovoice Manager: This role will allow users to act like administrators. That means the user can access all the features without any barriers. The users will have all privileges to control everything from the settings to third-party app integrations from a single dashboard.
Propovoice CRM Manager: A CRM manager can access customer data. The CRM manager will be able to manage the front-end, user dashboard, leads, deals, tasks, estimates, and everything that relates to customer management from the core.
Propovoice Project Manager: The project manager role enables the user to handle the plugin's clients, tasks, and project-based activities. Project managers can make workflow easier for the CRM managers and staff.
Propovoice Billing Manager: The following role will give your user the ability to manage invoices, tasks, estimates, and contacts, along with the user dashboard. The billing manager will take care of all the necessary billing information.