In the era where businesses strive for efficiency and excellence, understanding and implementing WordPress best project management practices is the key to success. These practices are not mere theories but have been obtained through real-life experiences, serving as the guiding light for organizations navigating the complexities of project execution.
So, in this blog, we'll uncover the core project management practices and explore how project management works in WordPress. Along with it, we'll also discuss what you could face without adopting these practices. So, let's hop in…
Table of Contents
What is meant by The Best Practice in Project Management?
Best practices in project management refer to the proven methods or techniques that are widely recognized for successful project completion. These practices are mainly generated from the experiences gained running various projects over time.
Challenges without Proper Project Management Practices for B2B Businesses
Without WordPress best project management practices, you might encounter several issues while running and managing your business, including:
Unclear Objectives:
It's hard to achieve business objectives without adopting the best WordPress project management practices. You'll miss deadlines for different projects which might severely hamper your business goals.
Improper Planning:
Not well-planned projects can arise various problems such as missing deadlines, mismanagement in task handling, etc. The WordPress best project planning practices allow you to take your business in the right direction.
Mismanagement:
This is a serious issue that should be handled immediately. Without these practices, you will never know which project is handled by whom or which one is to be taken care of.
Lack of Accountability:
You will also face accountability issues while handling projects without efficient project management tools. For example whom to question for a selected project as there will be no project records.
Less Revenue:
The overall mismanagement brings a serious fall in attaining WordPress project goals. This will seriously decrease business revenue and growth.
5 Proven Practices for Project Management
Best practices in project management are important for meeting business deadlines and goals. Here are the 5 best project management practices that going to skyrocket your B2B business goals:
Setting Goals, Scope, and Milestones: Defining project goals and milestones is the foundation of efficient project management. Clear goals will give your project a direction toward progressive growth.
Creating Project Plans: It involves breaking down the projects into tasks, assigning responsibilities, estimating resources, and determining timelines.
Adopting the Right Project Management Tools: Implementing a suitable project management tool can significantly improve collaboration and communication. Tools like Propovoice help you to streamline project workflows.
Creating and Managing Projects with Tools: Utilizing project management tools to create and manage projects can lead to increased efficiency. These tools facilitate task assignments, real-time updates, and centralized documentation, making it easier to monitor progress and ensure everyone is aligned.
Monitoring Projects: Monitoring projects involves tracking progress, identifying bottlenecks, and making adjustments as needed. Regular check-ins and status updates help in maintaining project momentum while adapting to changes ensuring that the project stays aligned with evolving requirements.
How Does Project Management in WordPress Work?
WordPress comes with an all-in-one solution. One CRM where you can get solutions for all of your problems. With the blessing of its limitless opportunities, now you can also handle projects and deliver them within the deadline.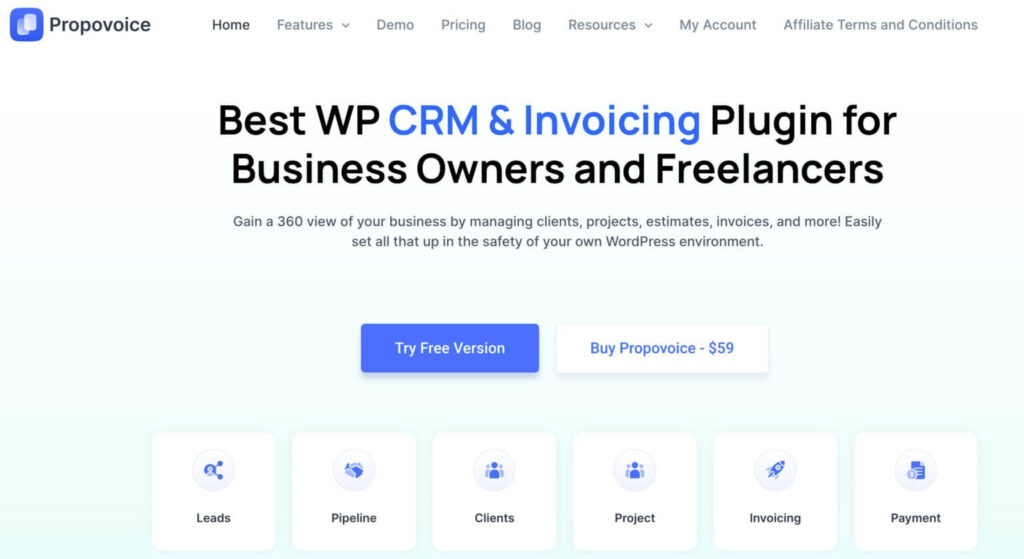 There are various WordPress project management tools for B2B businesses and Propovoice is one of them. This CRM will simplify your entire project management process. Curious how?
Go through the complete guide on how project management in WordPress works:
First, you have to install and activate Propovoice by following the general plugin installation method. After that, go to the backend and click the Projects tab under Propovoice.
Now, click either "+Add Projects" or "+Let's Start Creating" to add a new project.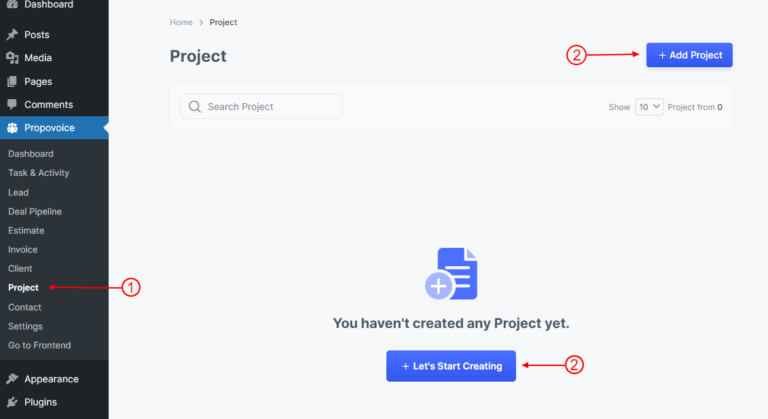 After that, enter all the information to add a new project such as Contact Person, Contact Organization, Email, Mobile Number, Title, Budget, Currency, Status, Start Date, Due Date, Tags, Description, and Note. Finally, after adding all the information, hit the "Save" button.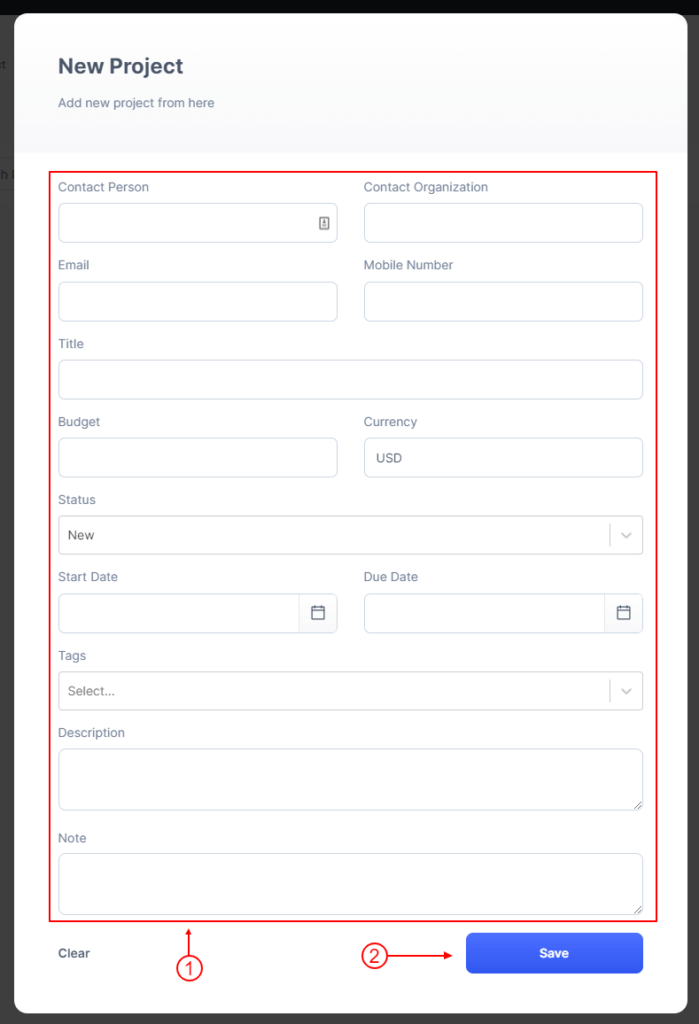 After adding a new project, you can customize each project from your WordPress dashboard. To do that, go to Propovoice >> Projects and click the project that you want to customize.
There you will find various options such as:
Tags: Add tags for each project.
Edit: Change project information from here.
Task & Activity: This will allow you to add task & activity from here.
Note: You can add notes with projects.
Files: Insert necessary files from here.
Invoice: Attach invoice here.
Estimate: Add an estimate for your project.
Project Status: Change the status of your project.
Mark as complete: After completing it, click on "Mark as completed".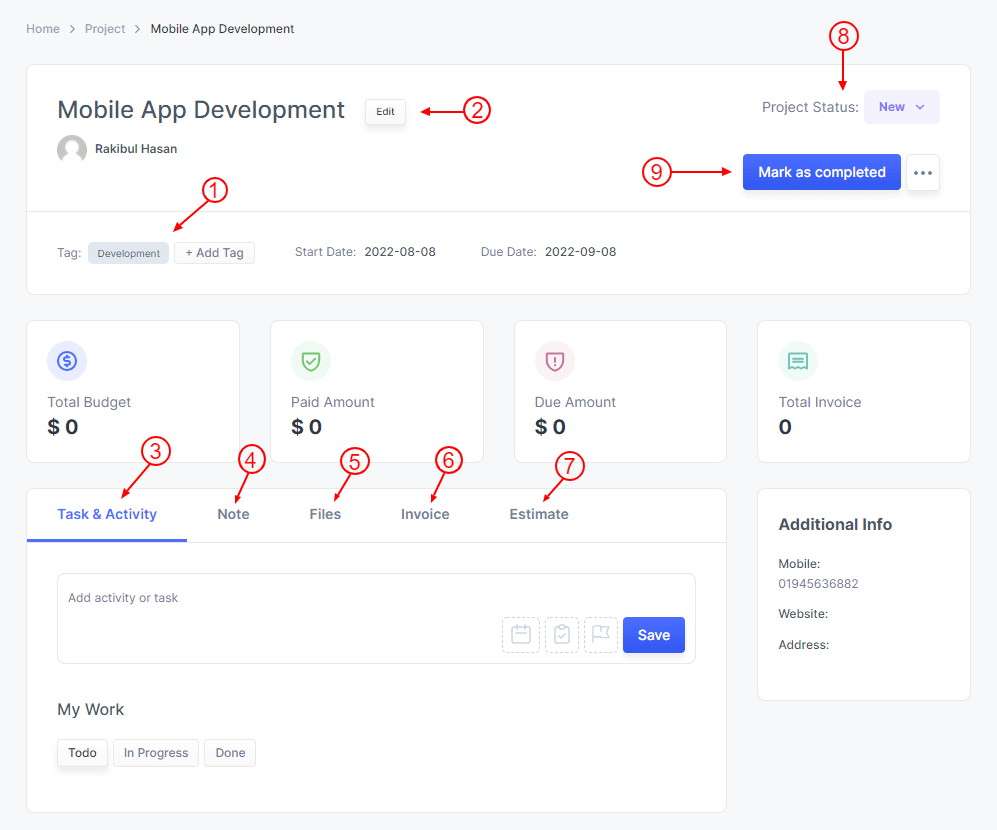 Propovoice also allows you to check the status of your projects by going to the Projects tab from Settings. Here you can check the status of all your projects.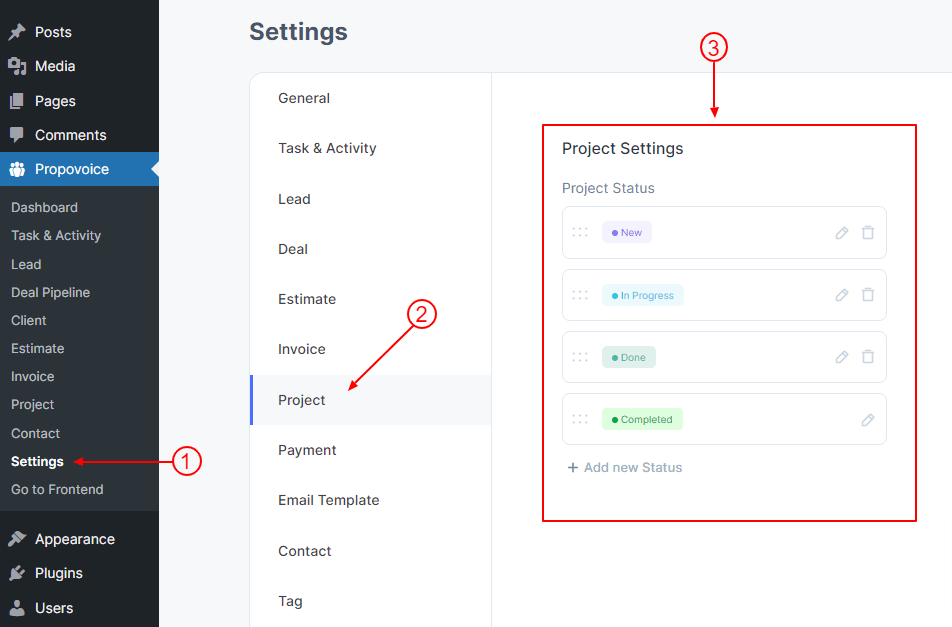 Which One is the Best Tool for B2B Project Management?
There are several B2B WordPress project management tools, each with its own strength. In that list, Propovoice stands for the user-friendly project management solution for B2B businesses.
This codeless plugin offers you a straightforward solution for the project, lead, client, pipeline, invoicing, and payment. Therefore, you can carry out all the functions that are essential to running and managing B2B businesses. 
Moreover, you will find a template-rich library for invoices and estimates. Furthermore, it allows you to customize those templates according to your desire. Also, you can export these estimates and invoices as PDF files. Propovoice also seamlessly integrates with all the form builders such as WPForms, Fluent Forms, Contact Form 7, etc. This makes it one of the most efficient project management plugins.
Wrapping Up
As we draw the curtain on our exploration of best project management practices for the year 2023, the key takeaway is clear: success in project management is not solely about completing tasks, but it lies in proper planning, collaboration, and execution.
The challenges faced by B2B businesses demand a strategic approach, proper WordPress project management tools, and constant monitoring. So, adopt a WordPress project management tool such as Propovoice and gain thriving success. Because with a tool like this, you're not just managing tasks; you're orchestrating success.