Do you want to enhance your knowledge about the WordPress lead management system? Then, adopting the strategies for a lead management system can be highly effective.
In this blog, we will walk you through the best practices or strategies for the lead management system WordPress. Besides, we will also discuss what is the lead management system and why it's so important. Also, we will guide you through the complete process of a lead management system using the best tool.
Table of Contents
What is a Lead Management System?
A lead management system indicates software built to help businesses organize, track, and manage leads for future campaigns. The primary purpose of this system is to gather leads and nurture them to boost sales and profits.
Why is It Important to Management Leads?
WordPress lead management is crucial for several reasons that are hard to ignore. Here are the primary reasons:
WordPress lead management system boosts conversions by properly nurturing and guiding customers through the sales funnel.
Effective lead management means building personalized and excellent customer relationships.
Proper lead management allows the sales team to explore opportunities for powerful business strategies that boost efficiency.
Well-managed lead discloses the opportunities for higher revenue.
Effective WordPress lead management and generation allow you to always stay ahead of your competitors.
Tips and Tricks on WordPress Lead Management Systems
Here are some fruitful strategies for optimizing the WordPress lead management system:
Implementing Lead Capturing Techniques:
First, you have to collect leads for running successful marketing campaigns. The best practice for efficacious lead capturing is optimizing landing pages with CTA, opt-in form, and exit-intent form. Besides, webinars, content updates, live chat, guest posting, referral programs, etc are also fruitful for effective lead capturing. These not only allow you to capture leads but also create brand awareness.
Personalized engagement:
Another powerful strategy for the WordPress lead management system is offering personalized experiences to your target audience. How?
The best option is dividing your audience into multiple segments based on demographics, behavior, interest, etc. And then, tailor communication and relation with each group. Besides, you can track their behavior to gather inspiration for personalized emails, content, landing page, etc.
Lead Nurturing
After collecting leads, you have to nurture them for greater results. Here you have to approach differently to each group of leads. For example, your marketing approach should be different for the lead who lies at the top of the funnel than the lead who is in the middle of the funnel.
You have to customize marketing campaigns, emails, content, etc according to the buyer journey. Thus, you can strengthen the value and relationship with your customers.
Lead Tracking and Scoring
Lead tracking and scoring are essential for an effective lead management system. It's important to track leads from time to time. This can be done by Google Analytics integration, UTM Parameters, Automation Tools, behavior tracking plugins, event tracking, etc.
On the other hand, lead scoring means you will give a score based on the lead's level of interest and possibilities to convert. This scoring can be done based on behavior, demographic, engagement, lead source, etc. Now based on these scores you can further optimize your marketing campaigns.
Strategy Optimization Based on Data
Last but not least, the strategy for the WordPress lead management system is optimizing your lead management system regularly. The meaningful insights that you will get from the lead tracking and scoring need to be utilized in this step to boost higher success in marketing activities.
How to Create a Lead Capture Form in WordPress
For B2B the best approach to add leads is using a dedicated CRM solution. Thankfully, there is an abundance of lead management plugins in WordPress that are going to confound you about which CRM to adopt. From the list of numerous lead management solutions, Propovoice is one of the most versatile plugins for lead, client, project, invoice, etc management. Moreover, it is also compatible with the WordPress Lead generation theme. 
Here is the detailed guide on how to add leads in WordPress using the protean CRM plugin, Propovoice:
First, install Propovoice from the WordPress plugin repository. To install Propovoice, go to Plugins >> Add New and Search for it. After that, Install and activate this CRM solution.
Once completing the activation, go to Propovoice >> Lead and hit the "+Add New" or "+Let's Start Creating" button.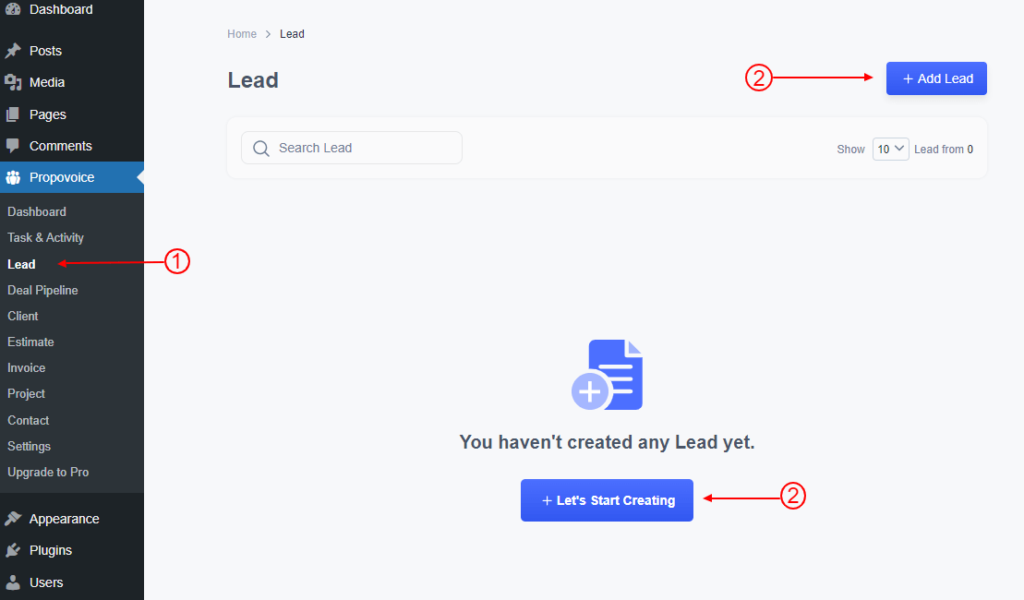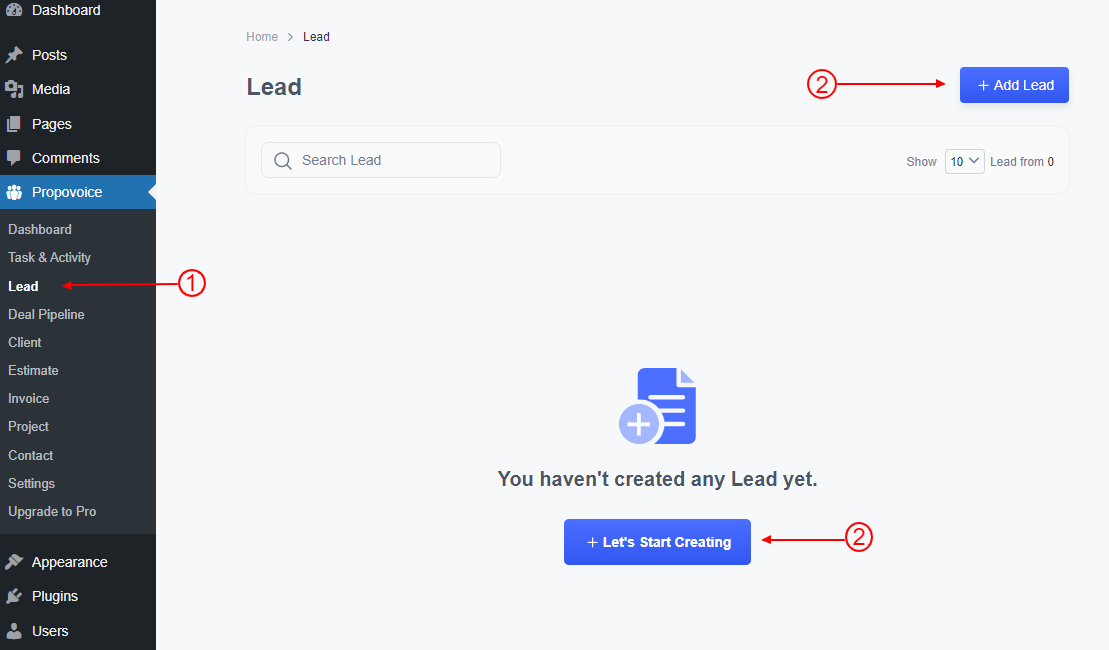 This will open up a new tab where you will get to see a form for a New Lead. Here you have to put all the information which includes Contact Person, Contact Organization, Email, Mobile Number, Budget, Currency, Level, Tags, Description, and Note.
Fill up all the necessary information and hit the Save button.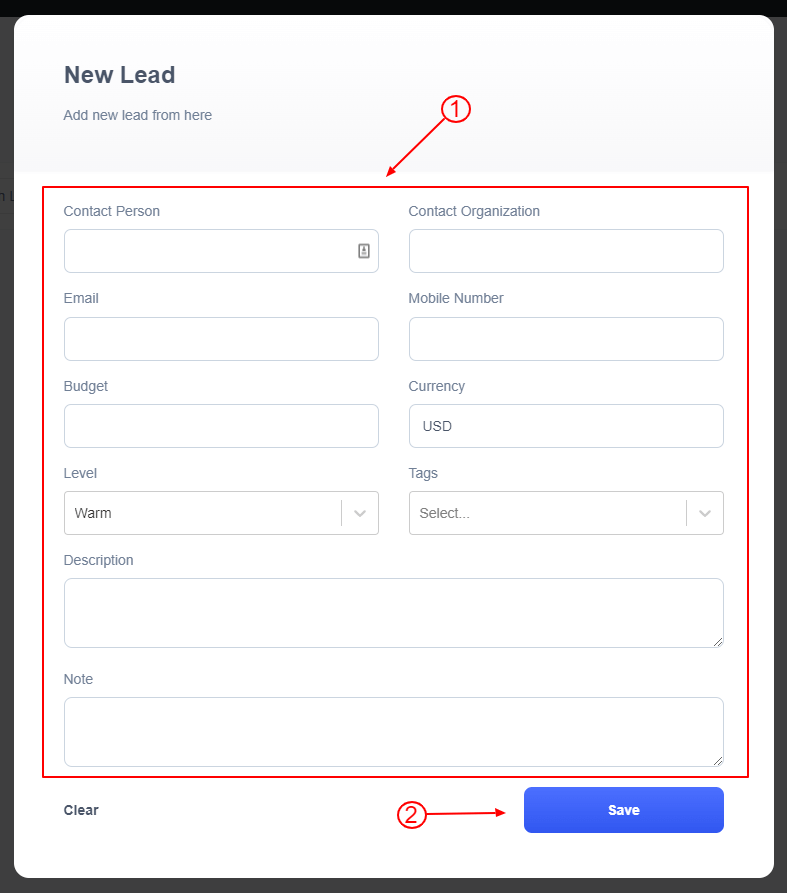 Now, time to overview your collected lead using Propovoice. For overviewing leads, go to Propovoice >> Lead and click on the lead that you want to check. Or you can also hit the three dots and choose the Overview option from the drop and down menu.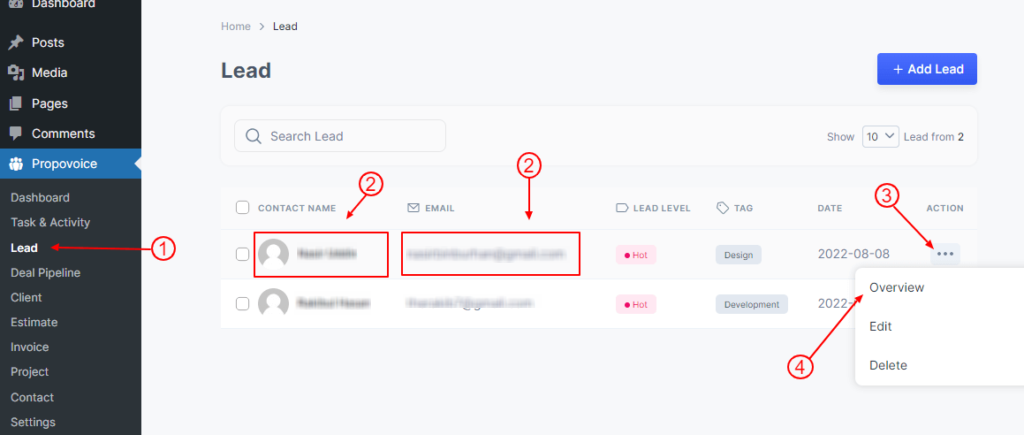 For each lead, you can edit the following information:
Add Tags: Add different tags to the lead.
Add Source: Enter the source from where the lead was collected or came.
Lead Level: Set the level for your lead.
Task & Activity: Set the task and activity for the lead from here.
Note: Enter a note for your lead.
Files: Insert necessary files.
Edit: Make necessary edits for each lead.
Add to Deal Pipeline: From here you can move a lead to the deal.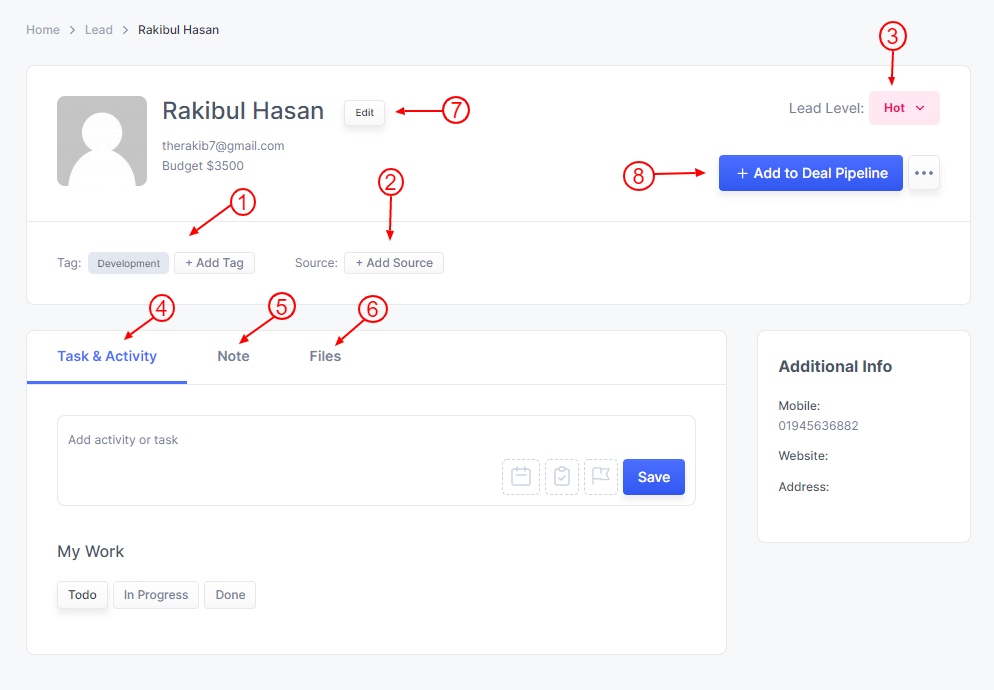 Besides, you can also assign a team member to each lead for further nurturing. To assign a team member, go inside the lead to find an option called "team". Now, expand the option by clicking it and assign a specific member.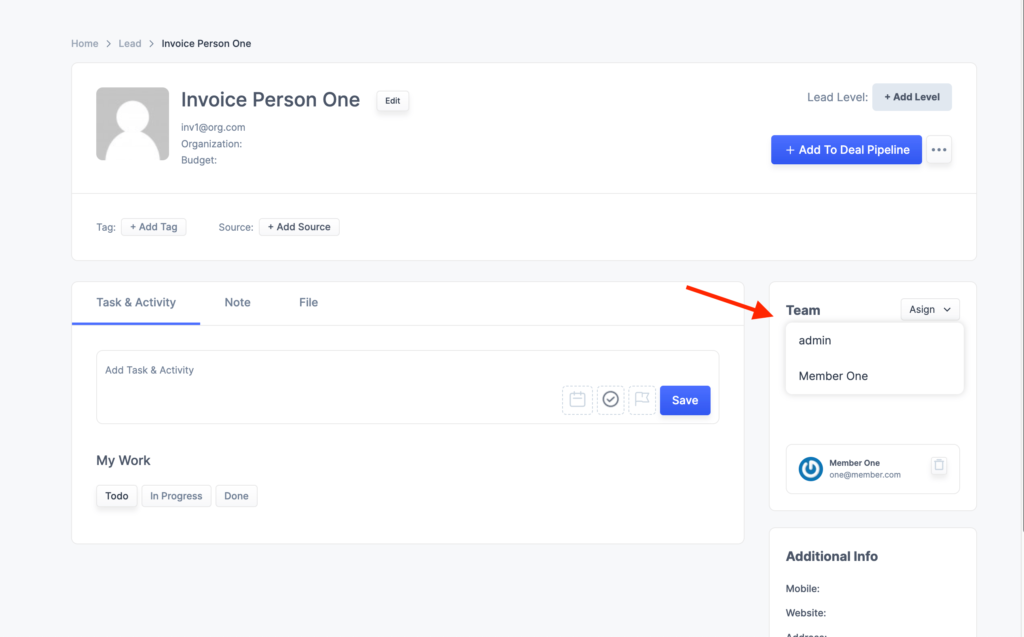 Lead configuration allows you to change the order of the levels and sources. Besides, you can also add new levels or sources and reorder them however you prefer.
Now perform lead configuration, go to Propovoice >> Settings, and hit the Lead tab. From here you can change the order of levels and sources.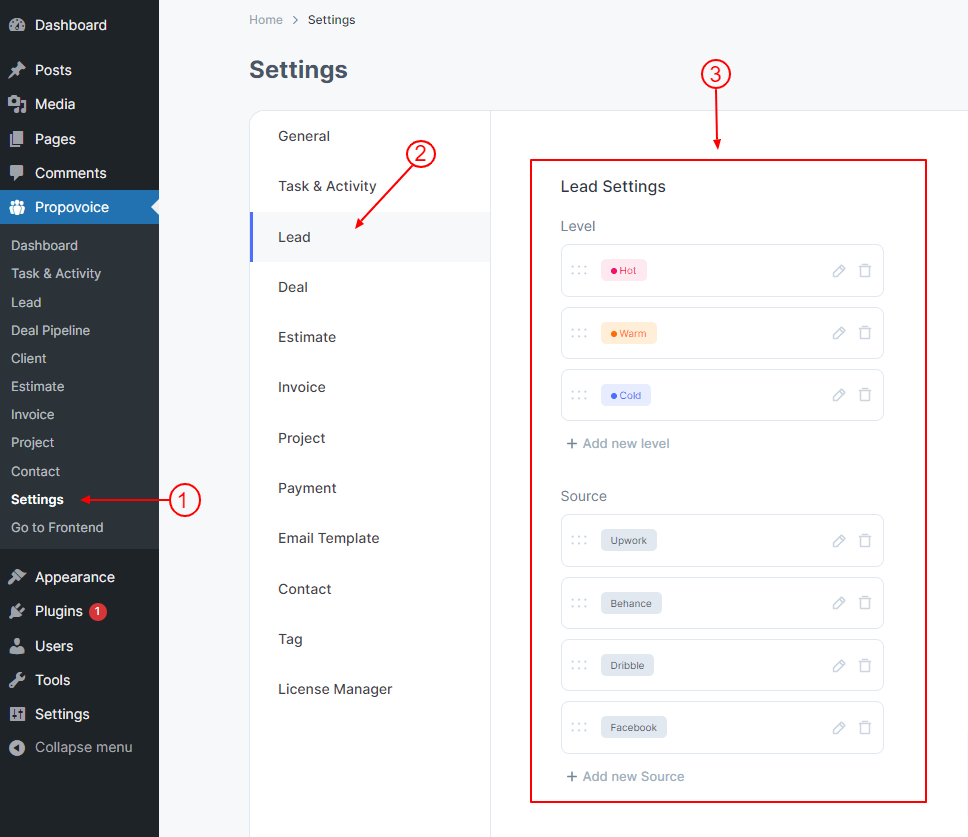 Why Use Propovoice for Lead Management?
Propovoice is the best lead management plugin for WordPress that comes with a full-fledged solution for B2B. It offers you the flexibility that you are looking for in your lead management system.
This is the easiest and all-in-one solution for lead, client, project, invoicing management, etc. Propovoice, the best lead management plugin for WordPress comes with a pack and gives everything that is needed to seamlessly manage a B2B business. Here are the main reasons for adopting this WordPress Lead management plugin:
It has a unique template library for invoices and estimates.
Option to share estimates and invoices through social media platforms.
Invoices and estimates can be easily printed and downloaded.
Integration is available for multiple payment gateways.
Compatible with popular contact form builders such as WPForms, Gravity Forms, Ninja Forms, etc.
Reminder setting option for estimates and invoices.
Recurring WordPress invoice management system, etc.
Wrapping Up
Congratulations on successfully going through the hands-on guide on strategies of the WordPress lead management system. These strategies will make your lead management easier than ever. Also, by combining WordPress and potential lead management plugins like Propovoice, harnessing and empowering the lead generation process will be so seamless that you might never imagine.