Navigating the competitive business world, one quickly realizes the importance of maintaining strong and efficient client relationships. This is where client management software comes into play. Such software doesn't merely manage client details; it revolutionizes the way businesses interact, communicate, and build lasting relationships with their customers.
That's why, in this blog, we'll highlight the top 6 software for client management that could be the game-changer while interacting and managing clients. So, let's start exploring to discover ultimate client management solutions.
Table of Contents
What is Client Management Software?
Client management software or CMS refers to a system that is designed to help businesses or organizations maintain smooth relationships with their customers. Simply put, it is a centralized system that includes every opportunity to seamlessly store, manage, and track important information about your clients for establishing better customer relationships.
Opportunities of Using a Client Management Software
Client management tools come with numerous opportunities to manage clients of your business. Here is the list of reasons that will drive you toward using a client management solution:
It allows businesses to manage client information in one place, making it easier to access and use.
Client management tools boost communication among your customers, offering features like effective email integration, notification, etc.
You can assign and manage tasks related to clients.
This reduces paperwork and operational costs to streamline business.
These bring scalability to your business by providing services to larger clients without disruption.
Through these solutions, you can establish a unique business model in the competitive landscape of the modern commercial era.
It meets compliance by maintaining data privacy.
This software protects sensitive clients' data.
You can also provide more personalized and responsive customer service.
6 Best Client Management Software
Effective client management is crucial for businesses to build strong relationships and drive growth. Organizations turn to client management software to streamline this process, which offers tools and features to track interactions, manage leads, and enhance communication.
Here are six of the best client management software solutions available, each with its unique strengths and capabilities:
Propovoice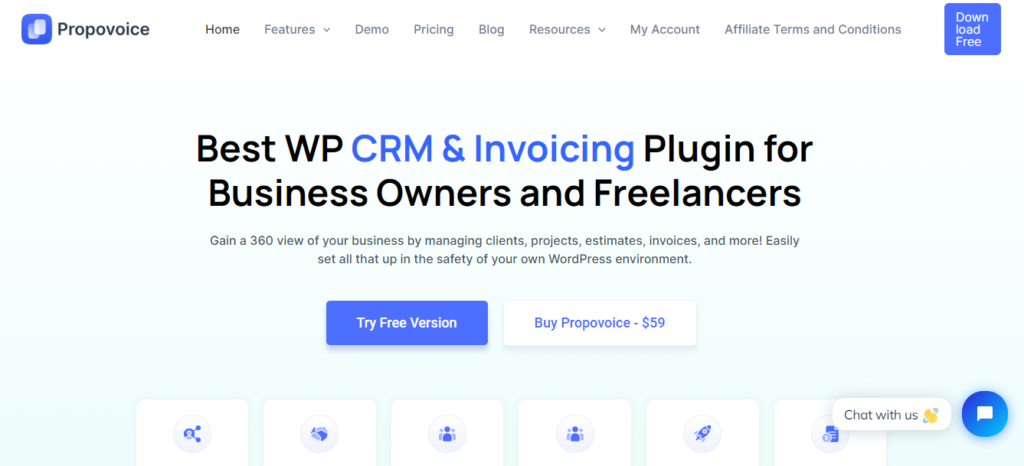 Propovoice is an all-rounder solution for managing clients, leads, deals, estimates, and invoices. This best client management software allows B2B businesses to streamline workflow and flawless business management. Besides, Propovoice ensures to include templates for invoices and estimates with further customization opportunities. Besides these, it has many more exclusive features that allow you to run businesses in this drastically competitive world.
Core Features of Propovoice:
Built-in template library for invoices and estimates.
Separate dashboard for estimates, invoices, projects, deals, and leads.
Branding opportunities with a business profile.
Additional price setting option for taxes, discounts, etc.
Digital signature for ensuring sleek client management.
Text editor for adding notes and terms with estimates and invoices.
Flexible payment system with all popular gateways and bank transactions.
Option to print and download estimates and invoices.
Setting reminders for estimates and invoices.
Integrations with popular form builders.
HubSpot CRM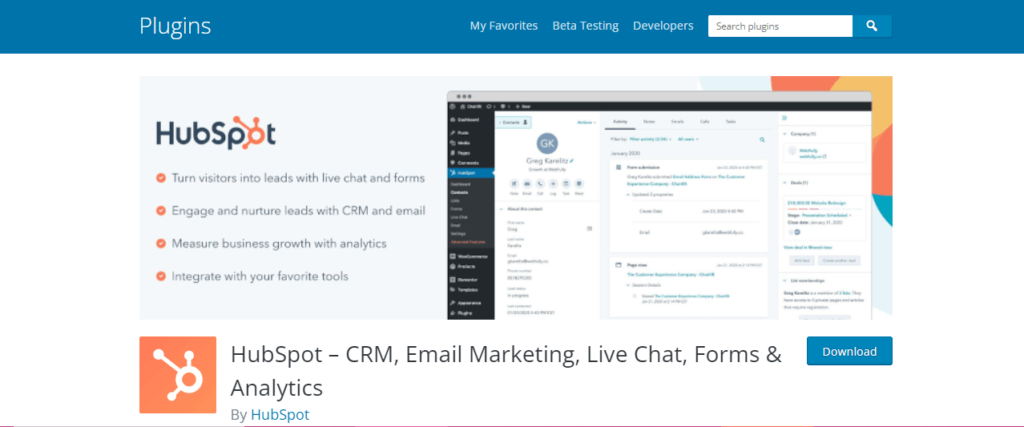 HubSpot is a widely used software built to help WordPress businesses manage client relationships, sales, and marketing effectively and effortlessly. This CRM mainly gained popularity for its user-friendly interface, robust features, and opportunities. Also, its integration with HubSpot products and free tier facilitates businesses to improve customer interactions, and drive growth. Moreover, this software establishes a credible reputation in the CRM industry.
Let's check its core functionalities:
Core Features of HubSpot CRM:
Real-time connection with Live Chat and Chatbot.
360-degree view of customer relationships.
Option to create custom form in minutes.
Insightful data analysis.
Online and offline chatbot.
20+ built-in templates for emails.
Over 1030 integrations are available.
Detailed reporting opportunities.
Mobile app support.
Zoho CRM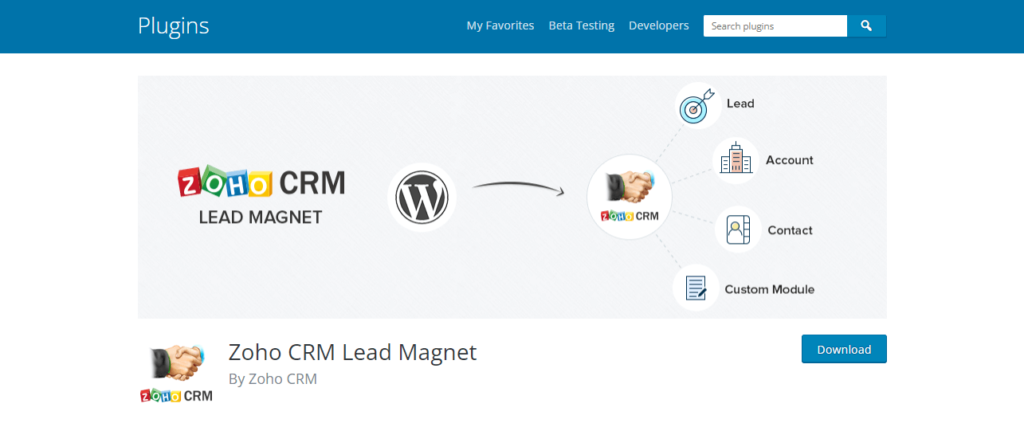 Zoho CRM is a comprehensive software for client management that is specially designed to deliver exceptional customer experiences. It offers numerous essential features to help businesses succeed, such as a centralized client information database, powerful sales automation tools, and in-depth analytics and reporting. Besides, with a 360-degree view of clients, Zoho CRM centralizes data from various interactions.
On top of these, it also offers meaningful integrations with other CRMs. Additionally, Zoho CRM streamlines day-to-day tasks, automates routine operations, and provides standardized processes through its Blueprint feature. Last but not least, it includes insightful analytics to make data-driven decisions.
Core Features of Zoho CRM:
Omni-channel engagement for customer loyalty.
Workflow automation for enhanced productivity.
Advanced analytics and AI-powered insights.
Integration with 800+ apps.
Friendly interface for minimal effort.
Salesforce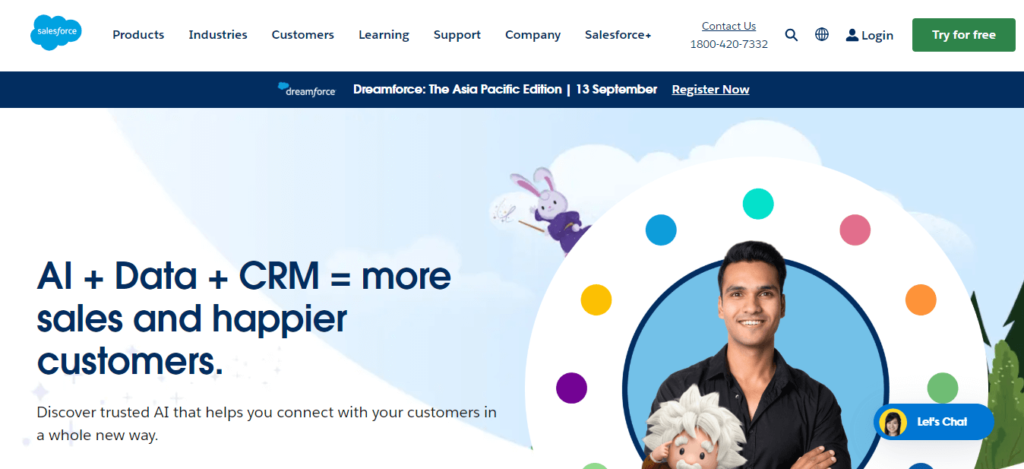 Salesforce stands out as the world's leading CRM because of its loyalty, real-time data accessibility, centralized data management, etc. Besides, it automates repetitive tasks to multiply productivity. Moreover, Salesforce is AI-supported, providing seamless customer relationship management.
Additionally, it has integration with all the popular third-party tools and software. Also, Salesforce is a highly scalable and secure CRM as it is built on a cloud-based platform.
Core Features of Salesforce:
Stores customers' data in a central location.
Increases scalability with automation and built-in AI, called Einstein.
Slack integration for better communication and collaboration.
Maintains data security and compliance.
Provides support through a vast community and experts.
Free trial option from Salesforce.
360 solution finder to satisfy your pain points.
Zendesk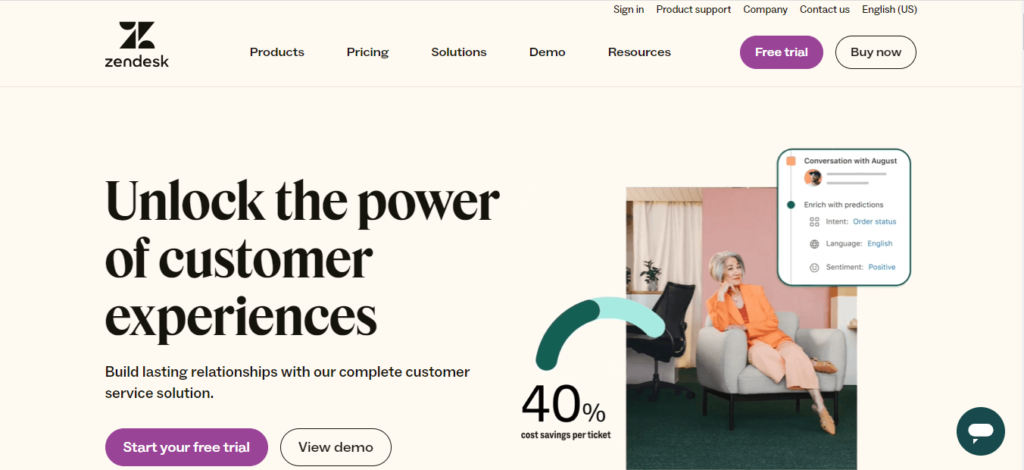 Zendesk is a prominent customer service software known for its comprehensive tools and solutions since 2007. This software for client management has rapidly become a leader in the customer service and engagement industry, serving thousands of organizations across the globe. The company's mission is to simplify and streamline customer interactions, enabling businesses to deliver outstanding customer experiences.
Core Features of Zendesk:
Manages customer inquiries through a ticketing system.
1000+ apps and integrations are available.
Multilingual support.
Ai chatbot for improved support.
Personalized customer support portal.
Displays business hours.
Custom and real-time analytics.
Built-in analytics dashboard.
Quick help for common requests.
Freshworks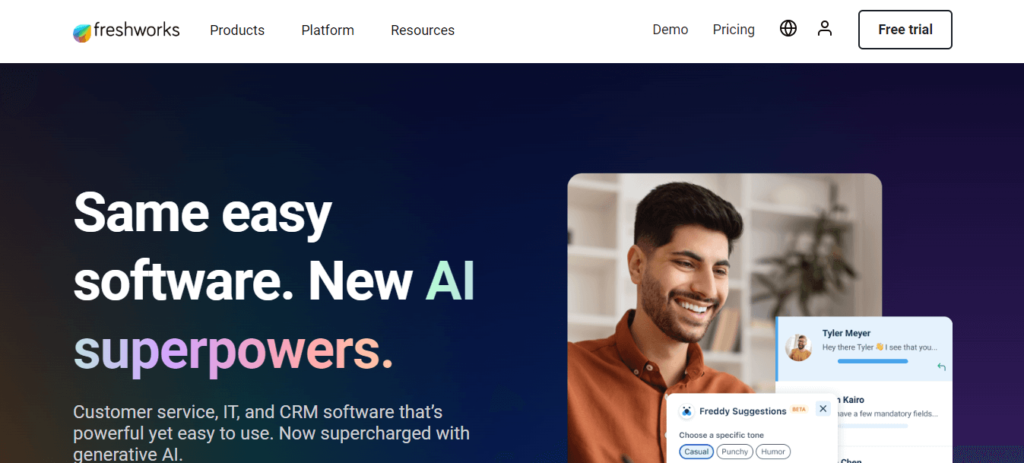 Freshworks is prominent software for client management that lets you streamline relationships with your clients by embracing the power of artificial intelligence called Freddy AI. Thanks to this exclusive tool, monetizing client management, running conversations on different channels at a time, brilliant customer support platform, etc. are not a dream anymore.
Moreover, this client management software reduces the no-show rate and ensures to provide instant support to your customers or audience. That's why moreover 60,000 companies around the globe utilize this tool to smoothen relationships with their clients.
Core Features of Freshworks:
Chats across all channels with every customer.
All-in-one customer service suite.
Bot for emails.
Excellent email notifications.
Enhances security and privacy features, including JWT authentication, HIPAA compliance, and more.
Advanced engagement with multilingual content.
Get Started with the Best CMS
Selecting the right client management software for your business is more than just an operational choice; it's a strategic move. The right platform can empower your team, streamline tasks, reduce operational costs, and most importantly, enhance client relationships.
Having taken a close look at the six leading client management solutions, it's evident that each brings a unique set of features and strengths. Your decision should align with your business needs, the size of your client base, and your future growth plans. So, opt for a client management tool after going through all the needs of your business.