Deal management is a critical aspect of business operations, more so in a digital environment where everything moves at a rapid pace. WordPress, the versatile content management system, has now evolved to offer robust solutions for deal management—especially beneficial for B2B businesses.
And, in this blog, we'll exactly shed light on it. Here we'll talk nitty-gritty about what deal management is, its significance, how it works in the WordPress ecosystem along with best solutions for it. So, without further ado, let's dive in…
Table of Contents
What is Deal Management in WordPress?
Deal management refers to a process of monitoring, collaborating, and tracking all business deals to achieve desired goals. It means handling agreements and collaboration between two parties to establish mutual partnerships.
Importance of Deal Management for B2B Businesses
Effective deal management offers a set of opportunities for properly managing B2B business deals. Here are the top benefits that come along with B2B deal management:
It ensures deals are met properly to boost revenue.
Deal management fosters interactions, trust, and collaboration between two parties.
It allows you to prioritize deals to get important deals done within the allocated time.
You can easily find deals that have a higher possibility of conversion.
Efficient resource allocation is ensured with deal management.
It raises the success rate of business deals.
Finely identify the needs of leads and customers.
Well-deal management creates opportunities for quicker responses and solutions.
How Deal Management System Works in WordPress
A Deal Management System in WordPress typically involves using plugins or custom development to handle the creation, tracking, and management of deals or sales opportunities. These systems allow you to input, organize, and track deals through various stages of the sales pipeline. Users can usually add deal details, assign owners, set deadlines, and track progress.
There are various deal management systems or software in WordPress that are good for B2B businesses. Propovoice is one of the most effective plugins on that list. This deal management software allows you to seamlessly create, manage, and track B2B business deals to meet business goals effectively and efficiently.
Step 1: Add Deals.
Propovoice allows you to create a new deal from a lead by going to the "Deal Pipeline" under Propovoice. Then either hit "+Add Deal" or "+New Deal". This will generate a popup form for deal creation.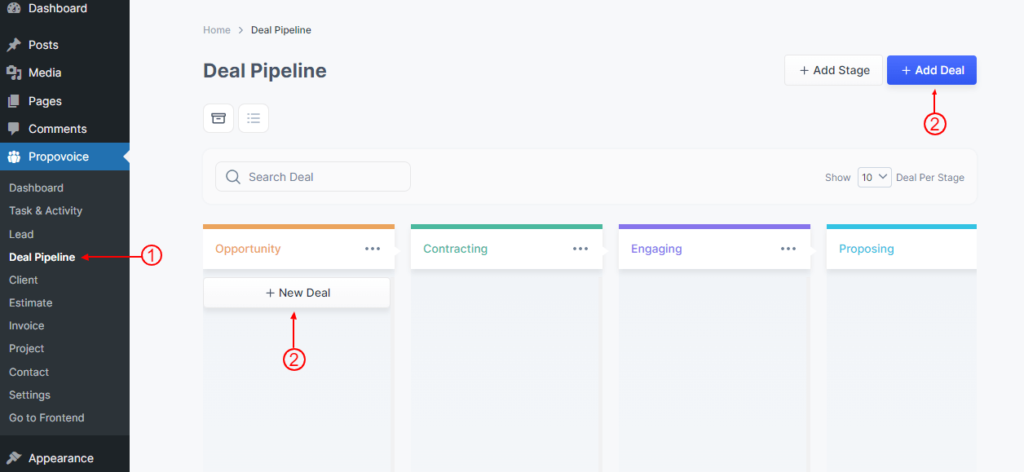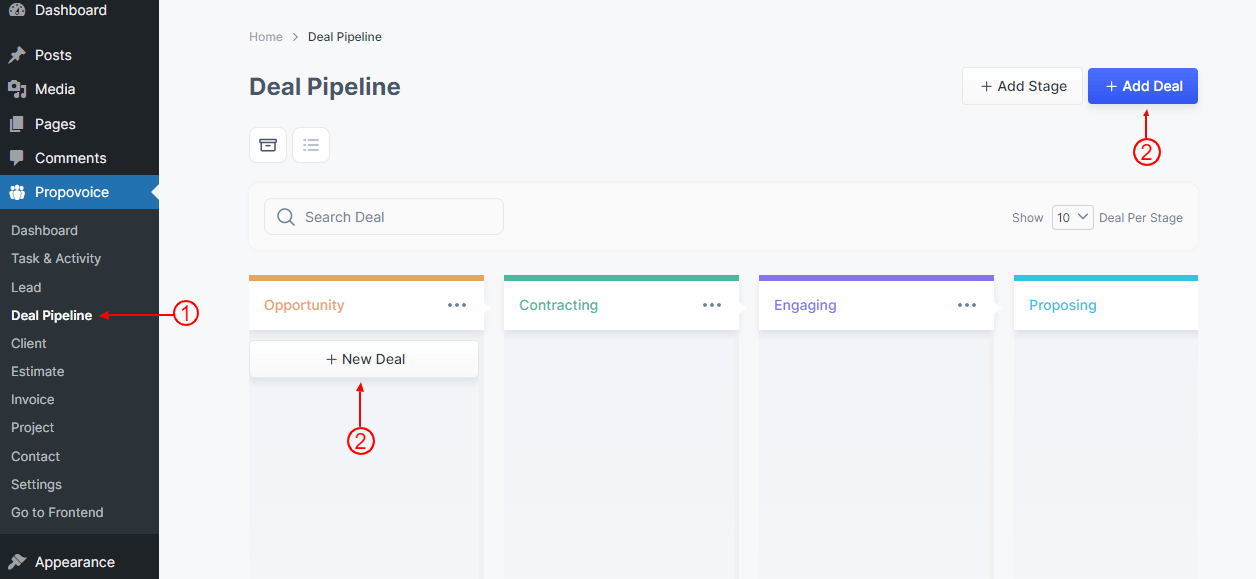 Here is the form that you will get to view after clicking the "+Add Deal" button. Now enter Contact Person, Contact Organization, Email, Mobile Number, Title, Stage, Budget, Currency, Probability, Tag, Description, and Note.
Then hit the "Save" button. This will create a new deal for b2b businesses.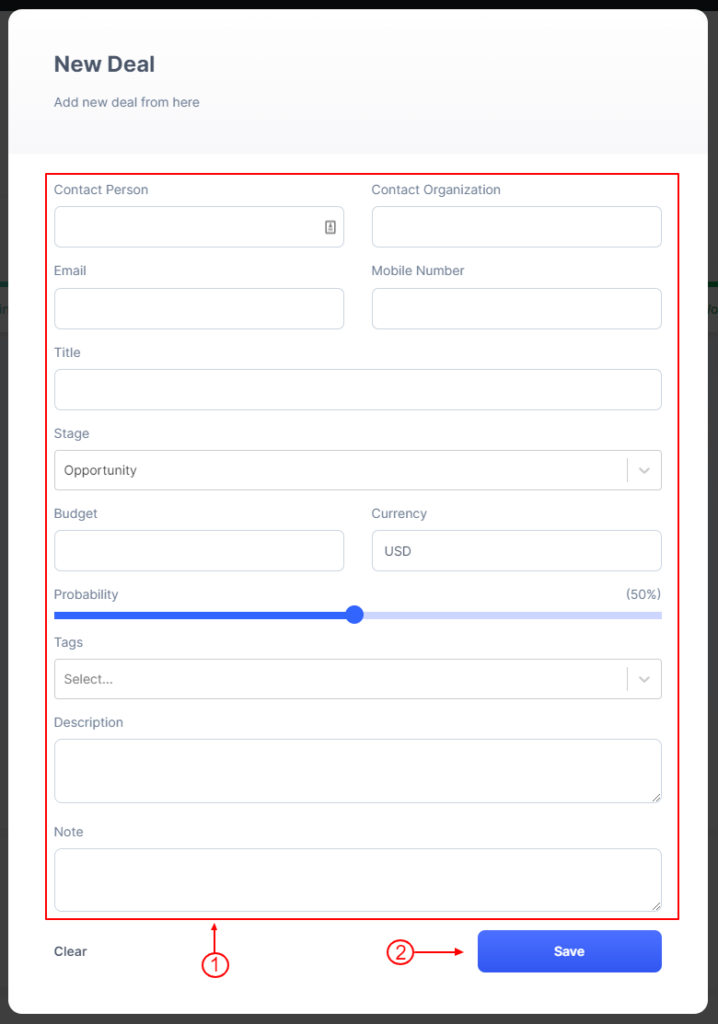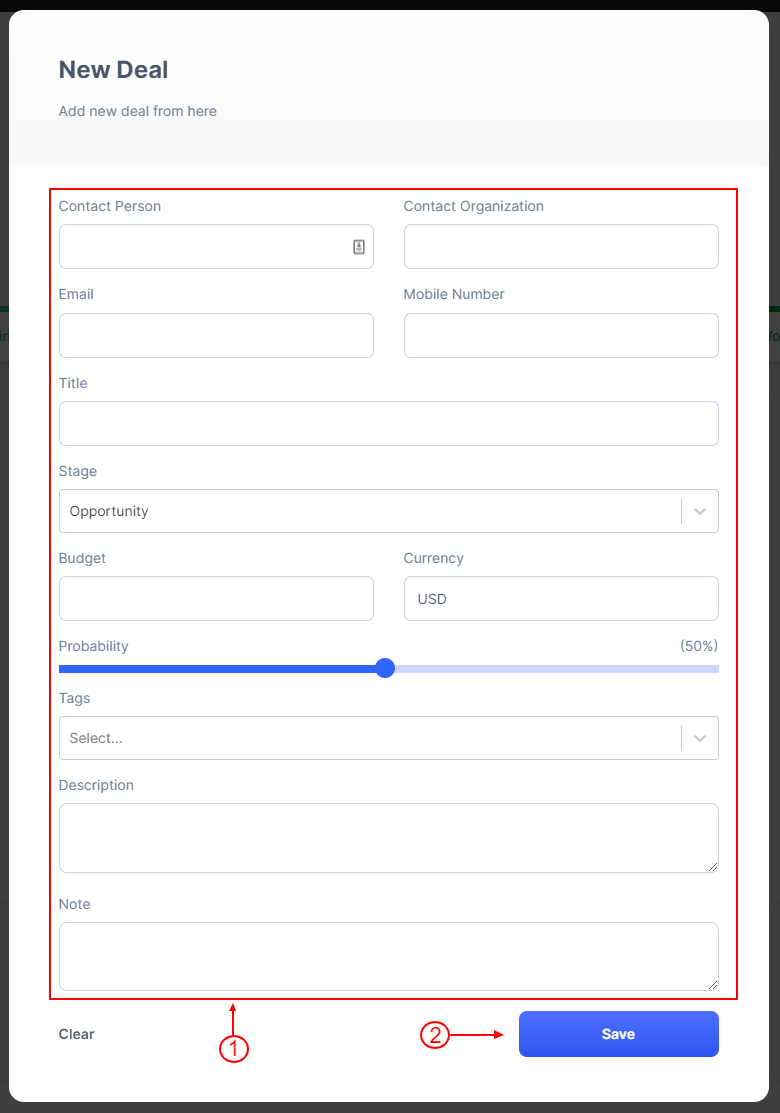 After adding a new deal, you can further customize it through the following options:
+Add Tag: Enter all the necessary tags.
Probability: From here you can change the deal probability.
Task & Activity: Enter Task & Activity from here.
Note: Add further note for the deal.
Files: Insert necessary deal files here.
Estimate: Add an estimate to the deal.
Edit: Adjust deal information from here.
Deal Stage: You can change the stage of the deal. And set a stage that suits your deal best.
+Move to Project: This field allows you to move deals to projects with a single click.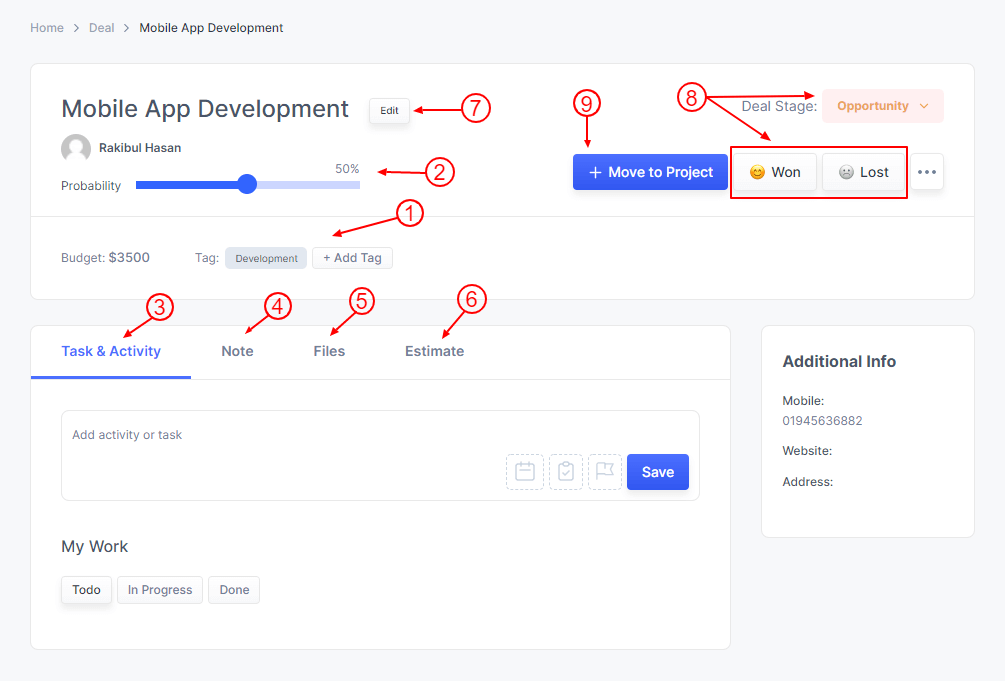 Step 2: Deal Configuration.
It is time to create a new deal status to edit and arrange these deals. The deleting feature is not available in the deal view. This feature is only available in the settings tab.
For that, go to the Settings tab under Propovoice and click the deal page. From here you can adjust deal ordering.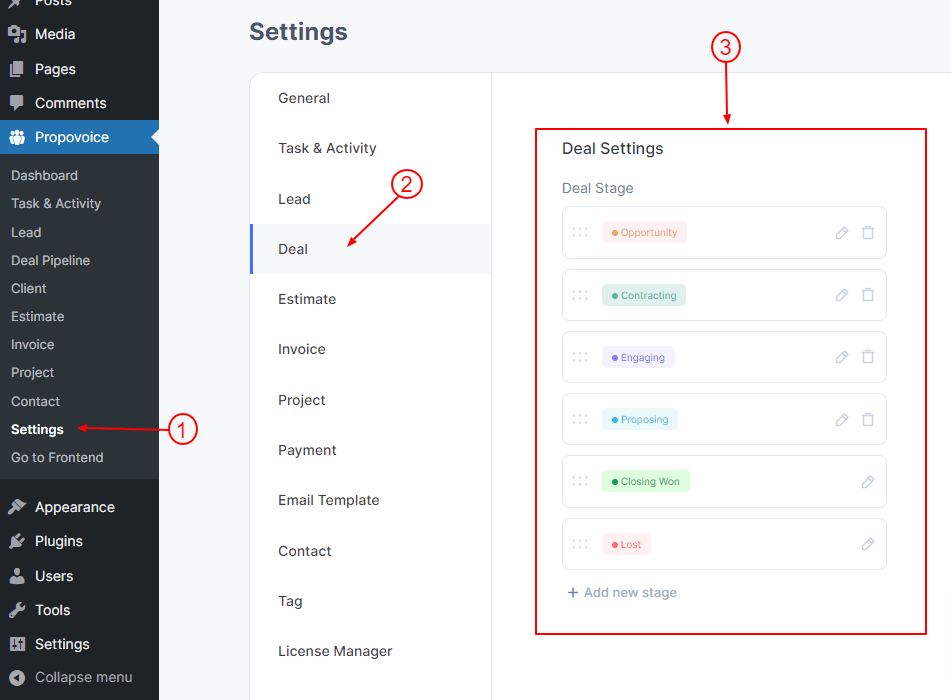 Best WordPress Solutions for Deal Management
When it comes to deal management, WordPress always comes with the best solution in the form of its WordPress plugins. These tools allow you to streamline the sales pipeline and improve overall deal management strategies.
However, it's overwhelming for a person to identify the best WordPress deal management solution. So, here we've handpicked the three best systems for managing B2B business deals: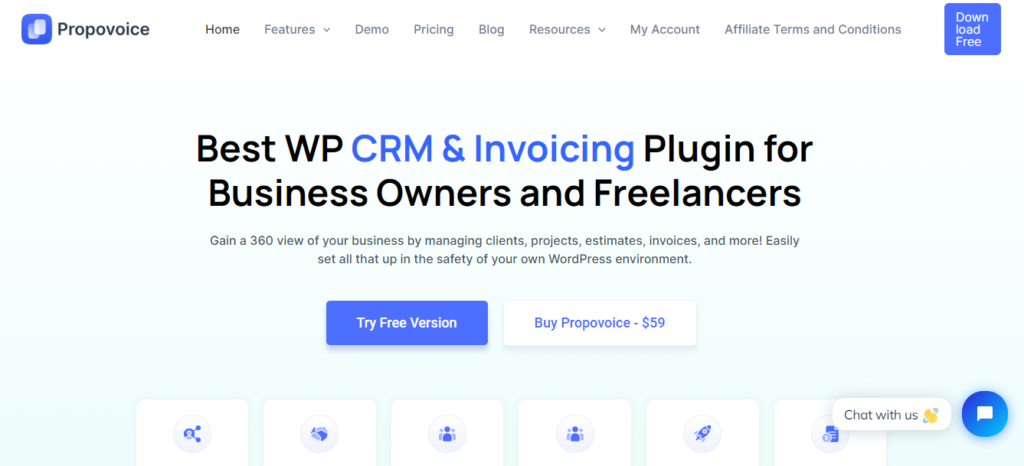 Propovoice is a multifunctional CRM for smooth deal tracking and managing. Thanks to its intuitive interface, you can easily manage leads, estimates, invoices, clients, and whatnot. This also includes built-in templates for invoices and estimates which you can further customize.
Besides, this deal management software lets you share estimates and invoices through different social platforms. It also has a library which has a wide collection of beautiful templates. Moreover, recurring invoices, estimate remainder, and invoice reminders are also available. On top of these, it has integration with popular form builders such as WPForms, Fluent Forms, Ninja Forms, etc. Due to these extended features, Propovoice stands at the top of the list.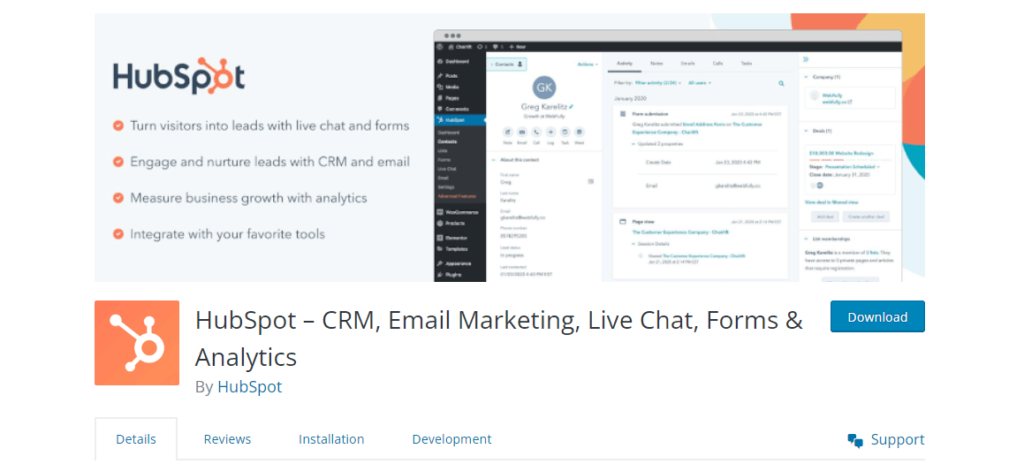 HubSpot, a big name in marketing and sales software, is putting a strong focus on helping businesses manage deals to generate greater revenue. It lets sales teams keep track of leads, manage talks with customers, and close deals more easily. Features like customizable deal stages and real-time performance tracking make the sales process smoother and more efficient.
Additionally, HubSpot makes it easier for different parts of a business to work together. It can connect its deal management system with other business tools, like accounting software, so information flows smoothly from one department to another. On top of that, HubSpot knows that keeping customers happy is a long-term job which makes it a great CRM for deal management.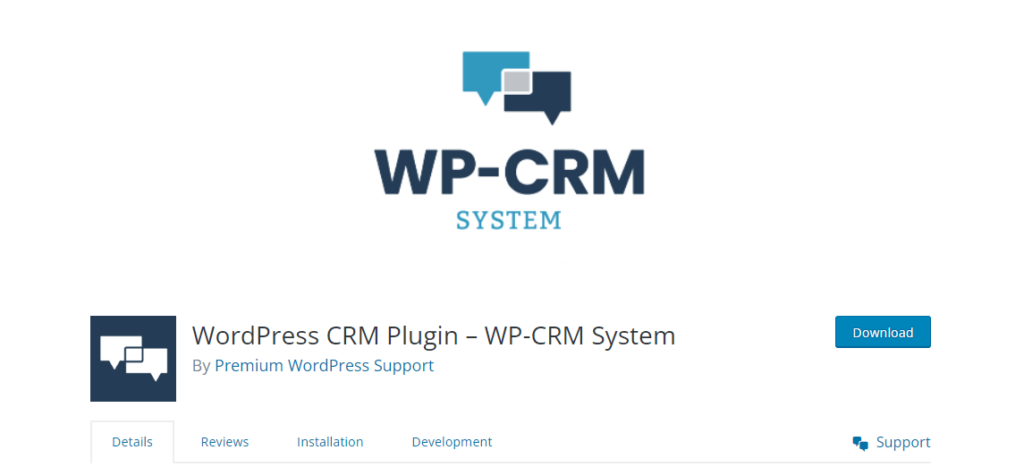 This is another robust CRM plugin for WordPress deal management. It enables businesses to set custom statuses for deals, track customer interactions, and assign tasks within a sales team. Besides, its user-friendly interface makes it easy for teams to keep track of complex B2B transactions.
This is more than a CRM solution that lets you manage deals, assign tasks, and track marketing campaigns to succeed in achieving business goals. Moreover, various premium extensions are available in this CRM.
Final thoughts:
Deal management is not just a trendy buzzword; it's a vital business practice that can significantly impact your revenue and customer relationships. WordPress has risen to the occasion, offering numerous plugins and custom development options for B2B businesses to manage deals effectively.
From tracking sales opportunities to prioritizing tasks and fostering relationships, WordPress deal management systems like Propovoice, HubSpot, and WP-CRM System are designed to provide comprehensive solutions that are as efficient as they are user-friendly. So, if you're running your business on WordPress, it might be time to consider implementing a deal management system to streamline your operations and maximize your business potential.